The DAF dimension
---
DAF! One of Europe's most powerful players and on the global front, arguably Paccar's greatest success story. Yet it's a brand which has struggled for recognition almost from the day it first appeared on the Australian market. Why? Many reasons, but more important are signs of major change as Paccar sharpens the assault to turn potential into reality

The road beyond Mansfield on the cusp of Victoria's high country isn't short of sharp pinches and tight turns.
Up here, big banger log trucks ply their trade on roads that demand respect and skill.
It's not an area you'd normally find a European cab-over towing a curtain-sided trailer.
Even so, DAF's CF85 was making easy work of it.
And why wouldn't it!
This was, after all, the new 510 horsepower (380kW) version of the versatile CF85 model and maiden voyage or not, with a healthy 1850ft-lb (2508 Nm) of torque pulsing through ZF's slick 16-speed automated shifter, a gross weight around 32.5 tonnes was hardly enough to cause even the hint of a sweat.
Inside the cab, life was calm.
Smooth, quiet, comfortable, great vision, with handling and road manners equal to any in the business.
Early days, sure, but even with just a few hundred kilometres under its belt this latest DAF derivative had already given plenty of indications that finesse and fervour would be cosy partners in an exercise covering more than 600km of wildly varying country through regional Victoria.
Yet right at this moment on the other side of the cab, Rob Griffin seemed a tad anxious, eyes fixed on his phone, hoping the hills would open at least enough to let a signal through.
It was mid-afternoon in early April and sales figures for the year's first quarter were due.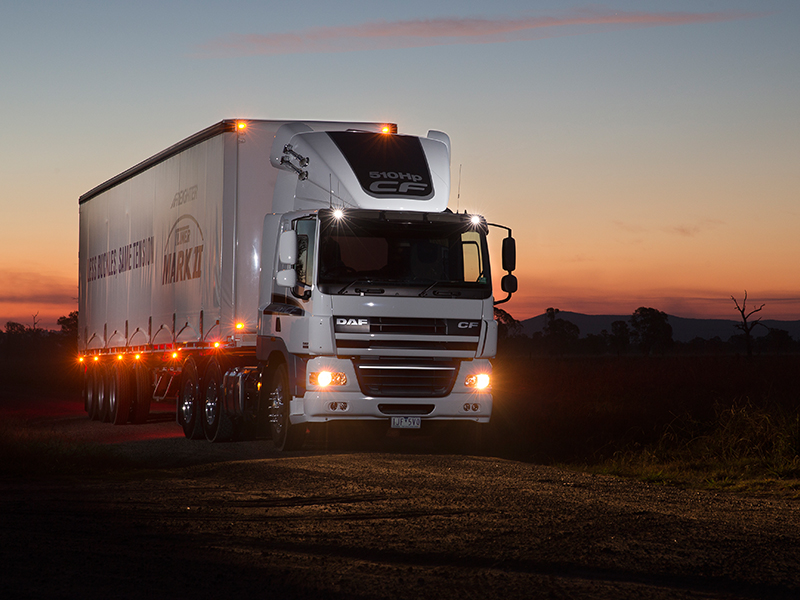 The numbers were important because as general manager of DAF Trucks Australia for the past few years, he'd been carefully crafting a new platform for the brand which for several decades has struggled to achieve much more than modest acceptance in the heavy-duty truck market.
The last few years had been typical.
In 2015, DAF notched an underwhelming 2.9 percent of the heavy-duty category, and the same in 2016.But 2017 was promising something better in the wake of a concerted effort to target those market segments best suited to the Dutch truck, rather than taking a broad brush approach.
A determined and occasionally dour individual, Rob Griffin hasn't always driven a desk.
Far from it, and the evolution from mechanic to senior management has known its share of lumps and bumps with one brand or another.
Consequently, the real world is a constant companion and recollections of attending to early DAF models with spanners in hand are deeply ingrained in the memory bank.
"No doubt about it, the brand got off to an ordinary start in this country," he says with blunt certainty, recalling pre-Paccar days when Dutch principals saw Australia as just another market rather than a market with uniquely rugged requirements.
"Even back then, it wasn't hard to see what the main problem was."
It was the people more than the product.
They were putting the truck into applications that just weren't right for it, and they brought it here without any real testing, obviously thinking it could do anything other trucks were doing.
"It wasn't a bad truck," he insists.
"In most cases it was just badly applied."
Stuck in the mud
But the mud of those formative years stuck, hard and fast.
DAF first came to Australia in 1984 when the brand was still a Dutch company and given the inane attitudes of the time, it was perhaps inevitable that DAF's early reputation would suffer.
Severely!
Eventually it all became too hard and with bruised egos and battered wallets, the Dutch took their truck home.
However, in the big scheme of corporate calamities, DAF's Australian adventure was made to look like a boy scout sleep-over compared to the company's dire European performance.
Joining forces with the beleaguered British company Leyland, the combined entity clawed its way ever closer to economic oblivion.
Yet just when it seemed financial assailants were warming up to deliver the final blow, along came Kenworth and Peterbilt parent Paccar.
Recognising an immense opportunity to not only join the European truck market but vitally, to acquire a company that made its own engines, Paccar in 1996 paid US$540 million for the Dutch company and followed that in 1998 by taking control of Leyland's operations.
Despite the sceptics – and there were plenty of them – it was an inspired move by Paccar, and one that effectively turned the tables on its European rivals.
Daimler and Volvo, for example, had already bought and fought their way into vast swathes of the US truck market, so what better way to level the inter-continental playing field than buy into European markets with DAF?
All Paccar had to do was turn DAF from an economic basket case into a profitable performer with significant prospects for corporate expansion.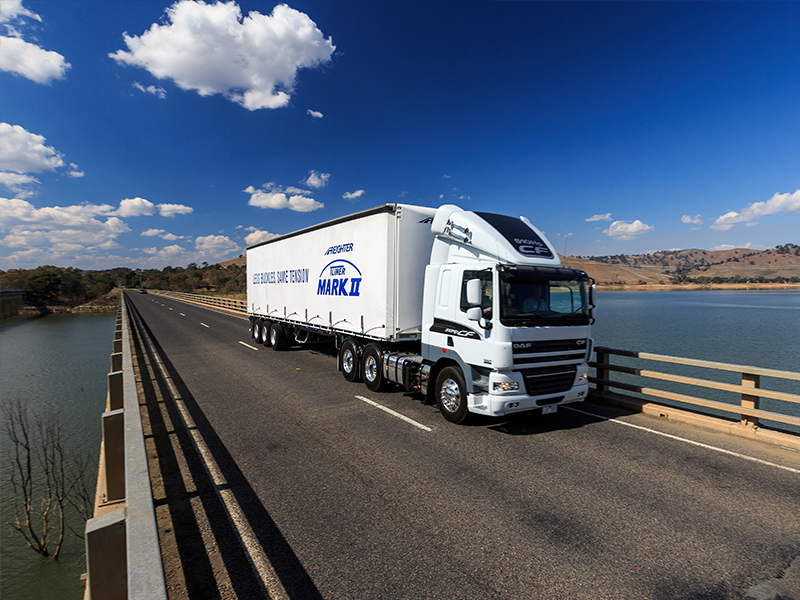 Of course, it was easier said than done given the depth of DAF's dilemmas, but as subsequent years would show, Paccar's established management skills and economic smarts were entirely capable of doing exactly that, turning the otherwise defeated DAF into a European powerhouse.
As the saying goes, 'the proof is in the pudding' and these days DAF's success is unquestionable.
A market leader in some of the continent's most competitive countries, its performance is perhaps far beyond even Paccar's most optimistic projections.
In the hugely crowded UK market, for instance, DAF in 2016 continued its 22-year domination of the commercial vehicle sector with a thumping 30.1 per cent of the market above six tonnes.
At this point it's worth noting that all DAF righthand-drive trucks – including those built for Australia and New Zealand – come from Paccar's Leyland Trucks assembly plant, further highlighting the wisdom of buying the once troubled Leyland facility despite the early heckles of competitors and commentators alike.
The story is much the same across all of Europe where DAF's share of the market above 16 tonnes last year climbed to more than 15 percent.
Last year alone DAF registered almost 47,000 trucks in Europe.
So what's the key to DAF's modern success?
Well, there are many contributing factors, not least the fact that with an extensive range of light, medium and heavy-duty models it is able to meet the needs of most operators while absorbing the ebbs and flows of different market segments.
Another great strength, at least in the UK according to several sources, is a dealer network consisting entirely of entrepreneurial independent outlets (much like Paccar's outlets in Australia) armed with factory-backed service schemes frequently cited by customers as a key reason for buying the brand.
Critically, it's also a brand with a solid reputation for fuel efficiency from its own MX11 and MX13 engines, endorsing again the long-term reasoning behind Paccar's decision to buy DAF in the first place.
Clever!
But here's where the DAF purchase really hits a home run: At the end of last year there were more than 135,000 MX engines powering Kenworth and Peterbilt models in the US.
On the local front, the numbers are miniscule in comparison but Paccar's local leaders say the 510hp MX13 continues to do good business in Kenworth's popular T409 model.
Again, Paccar didn't just buy a European truck brand, it bought an engine maker and that's why DAF continues to be seen by many as Paccar's greatest success story.
Meantime, back in the mountains north of Mansfield, a phone 'blips' as a signal slips through the ether.
Firm Belief
A smile told the story.
The four percent slice of the heavy-duty market Rob Griffin had been hoping for, indeed expected, for the first quarter of the year was now confirmed.
DAF had, in fact, notched 4.2 percent.
Not record breaking figures by any means, but definitely headed in the right direction and just a few fractions of a point behind the likes of Freightliner, Iveco and Mercedes-Benz.
Not only that, but ahead of Western Star, bringing a shrewd smirk to the Griffin dial.
More to the point, he quickly remarks, they're numbers providing early vindication that DAF is now moving forward rather than continuing its long-term stagnation on the lower rungs of the heavy-duty ladder.
On top of that, the rise was achieved without this 510hp CF85 model yet being broadly available.
In fact, the uprated CF won't be officially released until this year's Brisbane Truck Show, so given DAF's first quarter results prior to the launch of the 510 version, maybe a dash of confidence that this could be a significant year in the brand's Australian history isn't completely undeserved.
Still, he's not a bloke to get ahead of himself.
Nothing is being taken for granted.
Nor is Griffin ignorant of a few salient facts.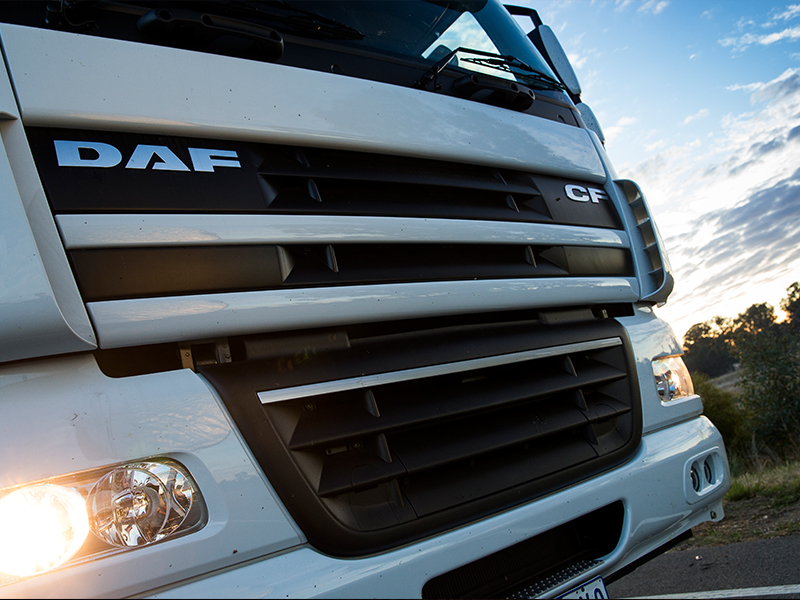 Like, it's almost 20 years since Paccar brought DAF back to the Australian market and in that time he has had plenty of predecessors who have struggled to make much headway with the brand and equally, shake the shackles of perception and reputation which have dogged DAF from its earliest days here.
Actually, it makes you wonder why he willingly agreed to make the move to DAF at all.
With almost 10 years in the Paccar fold, Griffin admits the easy thing would've been to continue as national sales manager of Kenworth.
After all, it's a premier brand which continued to do well during his tenure, comfortably maintaining the heavy-duty market leadership it still enjoys.
It is, however, an adamant Griffin who asserts he welcomed the offer to lead DAF.
For starters, the step up to general manager was an advance through the professional ranks but when it's all boiled down, he's under no illusion it's performance that counts.
Above all though, it's a convincing Griffin who declares a firm faith in DAF, citing again an opinion that much of the brand's reputation and sales mediocrity are based on aged perceptions rather than modern realities.
"We've done a lot of work behind the scenes and the way DAF was in the past, belongs to the past. Paccar has owned DAF for more than two decades, so all the production and design principles that apply to Paccar worldwide have migrated across to the DAF product.
"Like I said, much of DAF's reputation was created by putting trucks into the wrong applications and that's something we won't do.
"There's a bright future for this brand," he says with absolute certainty.
"Our job is to do the right thing by the truck and the customer."
Out of the Shadows
As for the suggestion that DAF in this country is often perceived as a poor cousin to big brother Kenworth, Griffin doesn't mince his words. "
That's how some others may see it, but they're wrong.
"We take the Kenworth association as a bonus.
"We're setting up this business to complement what Kenworth brings to the market, not to take anything away from either brand.
"The simple truth is that there are some applications best suited to a European cab-over and that's where we're aiming with DAF."
With his corporate cap pulled tight, a succinct Griffin adds, "We're bringing the right truck at the right price into the right applications, and we'll continue to do that in the manner Paccar is renowned for."
On the inference that some of DAF's issues revolve around the fact that it's a lot easier for dealerships to sell a Kenworth than its continental counterpart, he quickly fires back, "DAF strengthens our dealer network, not weakens it, so commitment to the brand is not an issue.
"In fact, we're gaining plenty of momentum in that respect because when you bring something new into the product range like this CF85 with an MX13 engine at 510hp, it creates an entirely new focus for the brand."
Quiet for a few moments, a thoughtful Griffin continued, "Look, it won't surprise anyone to know that DAF has been flat-lining in the market for a couple of years, but an MX13 engine at 510hp with this smaller CF cab opens us up to sections of the market we haven't had before.
"It will be enormous for us," he contends, "particularly with fleets. Price-wise it will be very competitive."
Even so, he's not blind to the extreme competitiveness of the market.
"We've done our homework and we know where we need to be in price terms … we're confident we have it right," he says earnestly.
Yet Rob is quick to cite the suitability of the new model as a prime factor in DAF's re-emergence.
"The 510 horsepower CF is a really important truck to our growth," he emphasises.
"As it stands at the moment, the CF at its 460 rating is DAF's best seller but for local and regional B-doubles, the industry has a psyche around 500 horsepower and that's where the 510 rating under the CF cab opens up new market segments to DAF."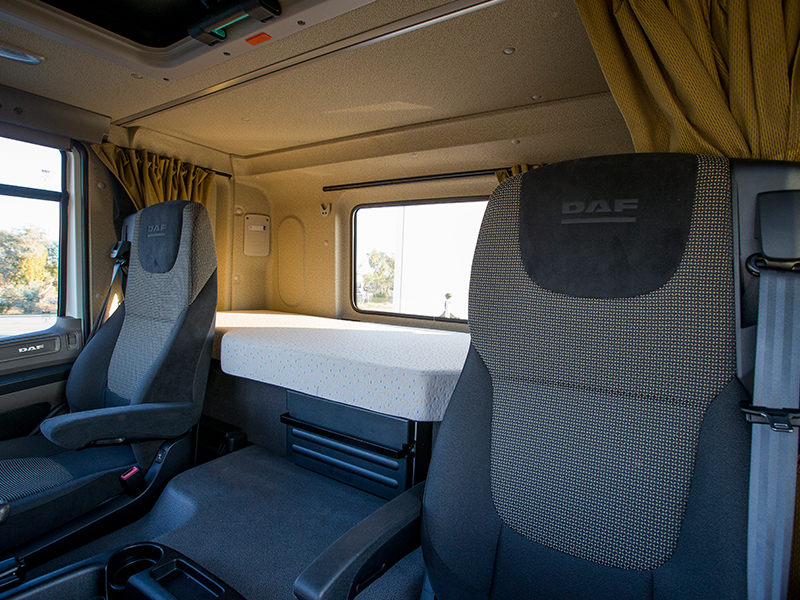 It's no secret, of course, that the 510hp version of the MX13 also powers the flagship of the DAF range, the higher, heavier and more expensive XF105. Unlike its big brother though, the CF85 "definitely won't be aimed at linehaul work," says a succinct Griffin.
"The XF will continue to be our long haul interstate truck but the CF 510 is our suburban and intrastate model for either single trailers or B-doubles up to 70 tonnes.
"We've specced it that way," he continues, "with a 16-speed automated (ZF AS-Tronic) transmission for the flexibility to flow with suburban traffic and provide the right balance between performance and fuel."
Fuel economy will obviously be a major factor in the model's future prospects but again, there are already ample indications from Europe and in local Kenworth T409 and DAF XF105 installations to suggest the 510hp MX13 will at least rival any engines in the same class.
Likewise, it's a confident Rob Griffin who says, "We've done a lot of testing to verify that the ratios we've chosen for urban and intrastate applications will provide the best balance between performance and economy."
Cooling capacity also went under the microscope, he explains, confirming that despite the CF's marginally smaller cooling package compared to the XF105, tests revealed that Paccar's demanding parameters for cooling under Australian conditions were comfortably achieved.
"The CF 510 puts us in applications and segments of the market we haven't really been in before," Rob continues, confirming the model will be offered in 4x2, 6x4 and 8x4 configurations, and citing tare weight, cab entry and exit, vision and manoeuvrability as inherent assets of the CF. Similarly, he lists low service costs, a competitive warranty package and the support of Paccar's financial arm, PacLease, as critical factors to the brand's growth prospects.
First and foremost, however, is getting backsides behind the wheel.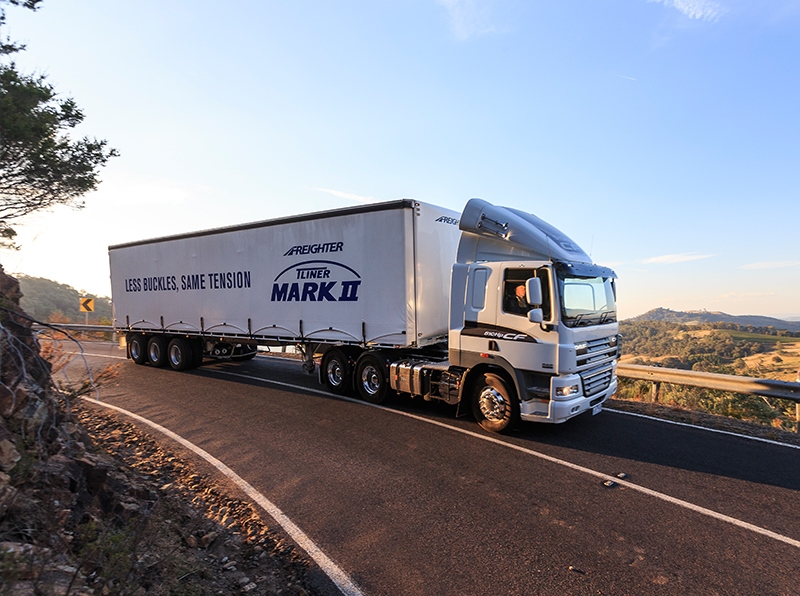 "This truck will definitely surprise people but it'll be critical to get people into it, to drive it and assess the truck on merit rather than mindset," he emphasises. "We've found time and again that once a prospective customer actually drives a DAF, they come away with an entirely new appreciation for the truck."
Indeed, it's a resolute Griffin who concludes, "We have very few problems with our trucks in the field and we're in no doubt the product is the best it has ever been.
"We have all the right systems and packages in place so now we just have to keep getting people behind the wheel.
"The truck will do the rest."
Coming July 10: Steve Brook's full test review of the DAF CF85 captured in words and on video.
Subscribe to our newsletter
Sign up to receive the Trade Earthmovers e-newsletter, digital magazine and other offers we choose to share with you straight to your inbox
You can also follow our updates by liking us on Facebook. 

Loaders For Hire | Dozers For Hire | Excavators For Hire | Forklifts For Hire | Machinery Attachments For Hire