Blast from the past: 1968 Kato 750G excavator
---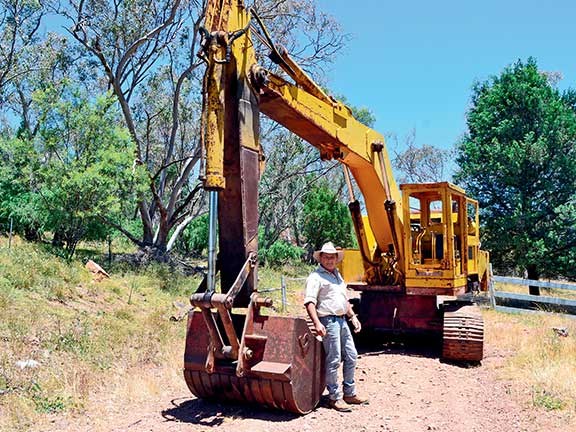 Ron Horner as excited as a kid with the 1968 Kato 750G excavator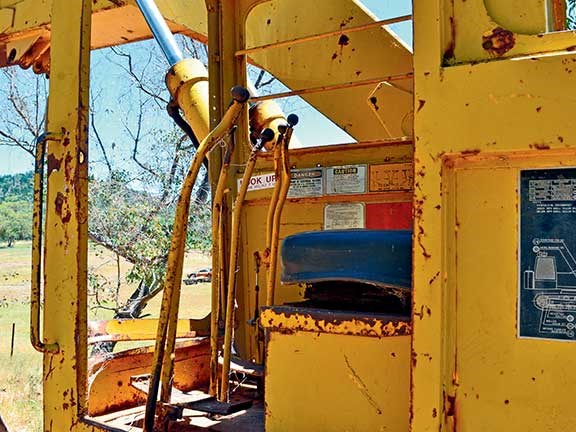 A bank of control levers kept the operator on the ball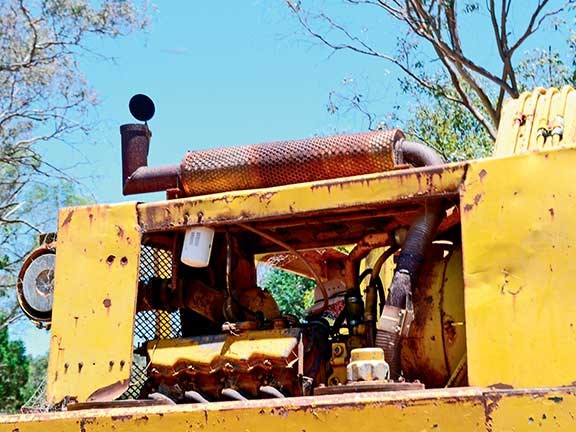 This old girl had a Cat V8 diesel engine, but Perkins and Mitsubishi were also later available

Every time Ron Horner sees an old chain-drive Kato excavator, like this 1968 750G, it brings a tear to his eye and a twinge to his back.

Reflection becomes part and parcel of life when you get to a certain age (and don't ask me what age that is). It just gradually creeps up on you and then one day you realise that you are looking back at the past and comparing it to the future … it just happens.
Modern technology cuts a swathe through everyday life and the day-to-day changes can be so difficult to keep abreast of that sometimes us older blokes wonder if it is all worthwhile trying to keep up.
Comparisons of today's youth, cars, trucks, machinery and attitudes to those of yesteryear are commonplace, and I must say I am guilty of that, but technology is forever changing the world and, I think, so much for the better.
Take social media, for instance. It's as commonplace as eating pizza today, and without it I would have missed the best Ronnie's Road Trip opportunity thus far to gain access to a classic old excavator. One of the best.


Back to the future
While on Facebook I came across an item of plant for sale, as you do. Not just any old item of plant, but one that takes me way back to my roots when I became seriously involved in excavators – namely a 1968 Kato 750G chain-drive excavator in working mode.
(You can tell I love these machines … just check out my story on this Kato 550G excavator I found in a Lithgow yard)
I immediately contacted the seller, requesting an inspection. The Kato was located in Wellington, New South Wales and, as I was within 300km of the machine and due to be in that area in a few days, I seriously thought of buying it for a museum piece if it was still available.
Details were exchanged but, as luck would have it, the owner had a buyer on the phone within hours who purchased the Kato sight unseen. If I wanted to view the machine in working mode, the owner said, I had better get my bum up there immediately as it was earmarked for floating out in the next couple of days.
The trip was sorted and we arrived nice and early the following day. Somehow it was like going on a blind date, full of anticipation, not sure what to expect, but hopeful that the effort thus far would pay off big time. 
It was a rural address and as we idled up the gravelled road I saw it … sitting in all its glory atop a small pine-littered ridge beside the workshop.
All battered and bruised, replated dipper, very little glass left, and showing all the war wounds one could expect from a long-serving loyal pig dog – BUT it was complete.
I was entering the pearly gates on the way to Kato Heaven.
Pioneer excavator
Ronnie Croker is a contractor, cocky, and a buyer and seller of machinery in his spare time, and happened to own the old Kato 750G. He guaranteed me that the machine was still a good goer and, although looking a little worse for wear, still had a lot of hours left in it (provided it was treated with a bit of love and tenderness).
We cranked the old girl up, sorted the camera gear, and away we went on a time-travel journey through Australian excavator history … this was surely one of the best feelings an old digger driver could experience.
The track plates were all bent and buckled due to the hard-working life the old girl had endured and, as it creaked and groaned its way up the hill, the chain drive reminded me that this was once the most advanced excavator on the Australian market.
In those pioneering days almost 50 years ago, it was Queensland's Thiess Bros who made it all possible. The brothers Thiess had won a contract on the Snowy Mountains Scheme and were in Japan to secure the Toyota LandCruiser franchise for Australia when they came across some excavators working close by.
Being inquisitive and innovative was always in their blood, so they decided to make enquiries and accidently became the Australian importers of the first real excavator range in Australia.
Now this Kato 750G was the lifeblood of that excavator range. Sitting at about the 20-tonne mark meant that it could still be transported relatively easily (although, having operated the chain drive for a while, it was still a bit hair-raising getting them onto a side-load float in the old days).
Coming out of the old cable-operated excavator/face shovel era, this Kato was really something special.
With a fully hydraulic upper carriage and still with the chain-drive tracks similar to the old (and soon to become antiquated) cable diggers, the Kato was in the transitional phase as fully hydraulic drive track motors were still a bit of a way off.
The hydraulics were fed off a single pump at the back of the Cat V8 diesel engine (Perkins and Mitsubishi were also later available), there was a simple valve bank, and foot and hand control levers kept the operator on the ball when in full work mode.
Activating the hydraulics was very simple: pull a lever in the cab which is linked to the corresponding valve in the valve bank and the relevant hydraulic ram was activated. Nothing fancy, and so basic in today's terms, but oh so advanced those many years ago.
I doubt 'ergonomic' was even a word when this machine was built. The old apple-box seating would be classified as non-compliant today but, believe me, they were a big advancement on the metal seats with rag insert on the cable diggers.
Old operators still have crook backs from operating these machines but many more have sore kneecaps after clouting them with some over-exuberant stick pulling on the dipper or bucket control levers.
No air-conditioning, radio or heater was available, not even as an option, and two-way radios fitted to the machines were still a long way off.
This model didn't even have a fan and, to make matters worse, the windows were mostly fixed, with the front window designed to open outwards at the bottom to create a 400mm wide gap for a breezeway (or dust entry point).
The cabin was very sparse in gauges and held the most basic information. But at least the operator was in a cabin, away from the dust and rain, and could monitor his 'melanoma count' – which was a big improvement from whence he came.
Soft spot
Japan's Kato Works did a lot of things right when it first came to Australia. Every contractor wanted a Kato, and these were so firmly imprinted into the Australian earthmoving landscape that most people referred to any excavator as a Kato – even when other brands became popular.
Asian manufacturers, up until recently, could not design or make a bucket "while their bum pointed to the ground" but, when Banbury Engineering took control of the Australian Kato franchise, it made and designed buckets for Kato, and those buckets are still (in my opinion) as good as what you will ever get.
A great design, splayed front opening and ground-engaging teeth with bolt-on cutting edges made this bucket, in its day, a contractor's must-have.
The old Kato 750G is a bit slow today, groaning and struggling but with plenty of play in its old bones. It is going to make its new owner really work for their money.
Machinery of this vintage in a working mode is as scarce as a one-ended stick. Without private museums, we would have little to show the younger generations just what it was like to operate equipment like this, let alone how technology has changed the industry so much in such a relatively short time.
Our industry should look at creating a museum to house gems like this old girl before we scrap them completely and they end up in some Asian melting pot only to be returned to our shores as a washing machine.
All the good years have well and truly passed for this old girl but, you know what, I couldn't have been happier to have had the opportunity to sit in, work with, photograph, and write about something that has survived the pioneering days of an industry I grew up with. I am truly blessed.
The video on the TradeEarthmovers.com.au website is compelling viewing for anyone who has a soft spot for old gear. Check it out at http://bit.ly/TradeEarthKato
Subscribe to our newsletter
Sign up to receive the Trade Earthmovers e-newsletter, digital magazine and other offers we choose to share with you straight to your inbox
You can also follow our updates by liking us on Facebook. 

Loaders For Hire | Dozers For Hire | Excavators For Hire | Forklifts For Hire | Machinery Attachments For Hire