Review: Cat 328D LCR piling excavator
---
Ron Horner really digs this 33-tonne Caterpillar 328D LCR bladed excavator with its Bay Shore LoDril piling attachment.

As it happens when 'The Nurse' accompanies me on a road trip, nature called to her and I found myself having to pull up in the centre of Warwick on my way back to my current home town of Boonah in south-east Queensland.
While the better half went in search of a modern convenience, I noticed some major construction activity going on with the extension on a major shopping centre located smack bang in the town's centre.
With security fencing, a 2m-high banner screen, on-site manned security, traffic control and 'No Access' signs staring me in the face, I decided the challenge of getting on site to inspect a machine for our readers was far too great not to have a go!
What had grabbed my attention, over the normal construction noise of reversing beepers, trucks, machinery and concrete pumps whirring in the background, was a particular high-pitched noise that I was not totally conversant with.
Over the top of the fence-line I had noticed the boom of a Cat excavator with a piling drill head attached, and that is what I was, hopefully, making a beeline for.
Now the dangers of being a broken-down roo shooter from Cobar pale into insignificance when you take on a freelance role as a heavy machinery reviewer and you try to gain access to totally restricted sites to provide readers and viewers with the more unusual and unpredictable stories.
For example, when The Nurse and I took on Vietnam, we were marched into security and held for three hours by Korean and Vietnamese officials as we had inadvertently strayed onto and started filming the construction of a golf course being built by the Koreans on a Vietnamese military base near Hanoi. You can read that story here.
Walkaround
Toowoomba-based EzyQuip Hire owns the machine I was looking for – a very well-presented Cat 328D long-carriage, close-radius, bladed excavator.
Now that machine in itself is worthy of the risks one has to take to get onto these sites, but when you have a perfectly suited Bay Shore LoDril attached to the boom for drilling the piles ... well, that's a bonus.
The beauty of this machine combo was quite immediately apparent.
Normally you would expect to have a bulky truck-mounted rig on site taking up much of the limited site area, requiring lots of turning and access room and needing to work to a strict pre-determined drilling plan due to its limited mobility.
This configuration was much more appealing to me and, quite apparently, to the client as well.
The Cat 328D fits snugly onto a float – no escorted wide-load permits here – and the permanently attached mast fits under the track frame for easy loading, transporting and unloading once onsite. The specific diameter-rated auger head is then attached and the unit is ready to go to work.
It's as easy and efficient as that!
Under the hood
The Cat 328D LCR weighs in at about the 33-tonne mark and runs the ever-so-efficient Cat C7 Acert 204hp (152kw) turbo-diesel engine. An ECM (electronic control module) acts as the brains of the engine's control system and responds quickly to operating variables to maximise engine efficiency.
Fully integrated sensors in the engine's fuel, air, coolant and exhaust systems are stored by the ECM and relay information on conditions such as RPM, fuel consumption and diagnostics.
To keep up with the day's long running you have a 400-litre fuel tank with 290 litres of hydraulic oil to ensure the hydraulic attachments have plenty of lubricant in reserve to keep temperatures down.
While speed is not paramount when travelling on a restricted-access site, it is possible to get 4.5km/h out of the Cat if you need to escape quickly for any reason.
In this instance, we don't have to worry too much on digging depths or breakout forces as the machine purely runs the LoDril, but the Cat has ample hydraulic oil flow (235 litres per minute) and cooling systems to handle anything that the LoDril can throw at it.
In the cab
In the cab, the Cat 328D provides excellent in-front vision, has an extremely good layout,  and has all the mod cons – such as tinted windows, aircon, full graphic monitor and reversing camera – required to make the day on the site a very pleasant one.
One in-cab addition on this earthmover is the 'Intelli-Pile Monitor', which is attached to the GPS and gives the operator control over the exacting positioning of the auger when drilling.
The close-radius design of the excavator ensures minimal amount of counterweight is hanging over the tracks and, although not zero swing, still provides the perfect balance for this operation with a mere 305mm counterweight overhang.
On the job
On a job like this, a pile-drilling plan is supplied by the client and, with the assistance of a skid-steer or backhoe to remove the drilled material, the excavator is sent straight into work.
This particular pile-drilling unit is a Bay Shore LoDril (low access drill) manufactured in Canada and the US that provides an excellent low-cost, efficient alternative to the more conventional equipment.
With this unit mobilised, it is proven that it covers a much smaller on-site footprint, has more efficient and effective on-site movement from point to point, can slew 360 degrees, and has the capability of cleaning up each hole drilled on site (which is where the blade attachment comes in).
This combination of the Cat 328D and the LoDril provides the perfect one-stop shop.
This unit is capable of drilling 10.5m deep but on this particular site is only required to drill to a depth of 9m. At about 1m diameter, it can punch out 14 holes a day – a very cost-efficient and effective alternative in anyone's mind. 
If the client required a deeper hole drilled it would be as simple as attaching the square Kelly Bar, which could drill to 14m deep.
All of the EzyQuip range of equipment is fitted with GPS, which guarantees the client has the foundations drilled in the exact location and to the exact depth. The Bay Shore LoDril can be raked at up to 20 degrees if required by drilling underneath the excavator.
The bottom line
This is a combo perfectly suited to this application. The Cat328D excavator, its blade and the LoDril attachment go hand in hand in providing:
Perfect stability
Responsive control
Small on-site footprint
Low-cost mobilisation
Immediate on-site set up
In-house clean up capabilities
The ability to move around site with minimal detrimental effect on the construction programme
An excellent, cost-effective alternative to conventional ideals.
As I have stated before, and this is a perfect example, the advent of modern technology and the continuing advancement of hydraulic attachments are ensuring that excavators will not be going out of fashion any time in the near future.

CAT 328D LCR EXCAVATOR SPECS
Operating weight: 32.9 tonnes
Engine: Cat C7 ACERT
Net power: 152kW
Dig depth: 6920mm
Dump height: 7820mm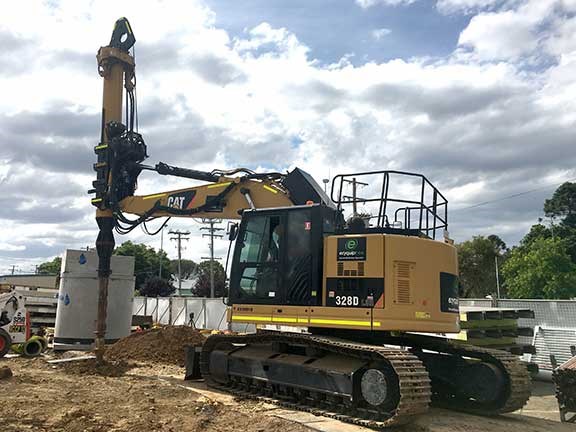 The close-radius Cat 328D LCR with its North American Bay Shore LoDril (low access drill) attached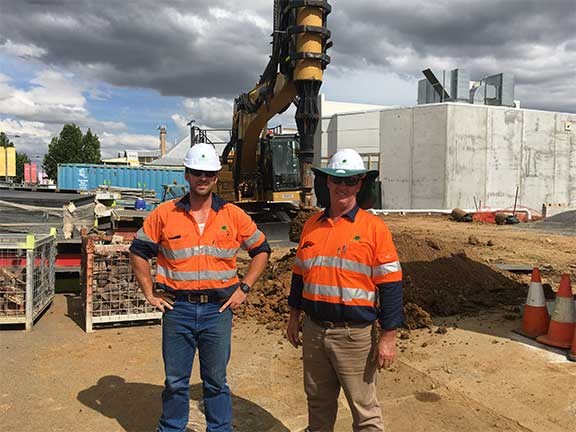 Operator Adrian and superintendent Dave from EZYquip Hire provided Ron with immediate access to the machine

Subscribe to our newsletter
Sign up to receive the Trade Earthmovers e-newsletter, digital magazine and other offers we choose to share with you straight to your inbox
You can also follow our updates by liking us on Facebook. 

Loaders For Hire | Dozers For Hire | Excavators For Hire | Forklifts For Hire | Machinery Attachments For Hire