Review: GTX750 hydraulic rock breaker
---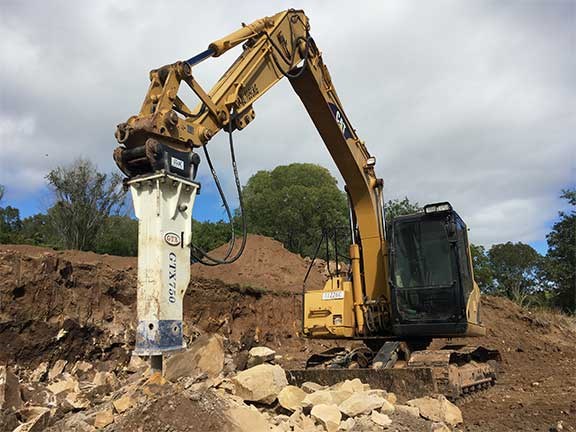 The GTX750 rock breaker attached to Ron's Cat 311CU excavator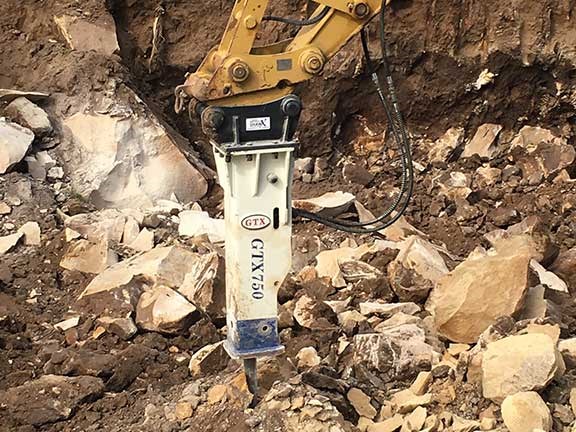 The hammer is Korean designed and manufactured in China by Yantai Xinren

Cheap grey-market hydraulic attachments can easily be bought online, but is cheaper better? We look at a GTX750 hydraulic rock breaker from China to test and to evaluate the risks

Low purchase price often hide other costs


No warranties or dealerships


Unit performs well, but for how long?


Over the last few years we've noticed a massive growth in the number of heavily discounted Asian-manufactured hydraulic attachments available for Australians to buy online.
Needless to say, many people in our industry have strong views against buying this gear. For my part, after a trip to the massive Bauma China heavy machinery expo and subsequent visits to several major Chinese factories, I came away with a totally different view on that country's manufacturing.
You can't dismiss the impact China has, and will have, on our lives. This game-changer is upon us so get used to it.
I have demonstrated and reviewed many Chinese-made excavators and other earthmovers over the years, and have been keen to get my hands on that country's attachments for a while.
After viewing online a spate of heavily discounted Chinese-made hydraulic hammers being pushed onto the Australian market, we decided to bite the bullet and just buy one.
The hammer in question was GTX-branded, Korean-designed and manufactured in China by Yantai Xinren.
We figured we could demonstrate and review it at our own pace in our own conditions over a six-month period and find out once and for all how they compare to other brands sold and distributed in Australia.
The apparent bonus when purchasing something like our GTX750 hydraulic rock breaker is that the purchase price is just too good to pass up. However, if you are contemplating such a purchase, you will have to be aware there are many other issues you have to take into consideration … and every one of them involves costing you time and money.
Hidden costs
When we took possession of the brand-new GTX750 we knew that there was no warranty and no Australian distributor. The hammer came all boxed up complete with a new single moil, two hydraulic hoses (not fitted and too short), a fitted top-mount adaptor head (but not of your choice), a small general information pamphlet, but no specifications or details on bolt tensions, gas pressures or contact details for spare parts.
So within the first hour of taking possession we were already up for a considerable sum to get the hammer operational.
It was obvious that a few favours needed to be called in to get us on the road at the earliest opportunity and at minimal cost. Favours and mates go hand-in-hand in this industry. If you are around long enough you will find you are always doing favours or asking for them to get you out of a tight spot, and this was no different.
Requiring expert advice on all things hammer and excavator related, I called on my old mate Bruce Pennels of Australian Hammer Supplies in Sydney to give me the rundown on the best achievable options to get this hammer working.
Next cab off the rank was a phone call to ShawX Manufacturing at Cleveland, Queensland, where Kenny Shaw and the boys quickly knocked up an adaptor head to attach the GTX750 to the demonstration unit, a 12-tonne Cat 311CU excavator.
Now the boys had done us a favour, but this adaptor head can set you back anything from $2000 upwards for a machine and hammer of this size.
Next favour called in was to take the hammer over to Breakers and Attachments at Acacia Ridge, Queensland, where Ben and the boys gassed the hammer to the correct pressure and checked the bolt tensions.
While this was being tended to, we called on Mitch Wagner for a couple of hydraulic hose extensions to suit the unit as the original hoses were about 600mm too short. Mitch delivered and fitted them and, after a quick turnaround from BA, we were back at the demonstration yard ready to fire it up.
Performance
Now the Cat 311CU excavator is not a new machine by any means. The 2007 model is not computerised and, with its manual throttle adjustment, you can adjust the hydraulic oil flow for optimum hammer operation.
It's not perfect in many people's opinions, but experienced operators can tell by ear and feel if the hammer is being fed too much oil by assessing the piston strike rate relevant to the type of material being worked.
With a 50-90lpm at 120-bar specification I found that to achieve the optimum production on the rock breaker. The revs on the Cat 311 needed to be quite low, and that proved to be more than sufficient.
The 2016-manufactured GTX750 breaker sits in the 400-600kg class and is suitable for a 7- to 10-tonne excavator. The Cat is a touch too large, but being fitted with a longer dipper arm I felt that the hammer would be quite suited for our application. Plus we have a mountain of rock at our testing ground and you would not want anything too light in these conditions.
That rock varies considerably from a decomposed volcanic type material to bedrock and porphyry boulders of varying density, size and weight. The Cat has been working in these conditions for several years and is showing significant wear and tear because of the rough steep and rocky terrain.
We have been using the GTX750 in the rock pit for about a month now, on and off. Not surprisingly to me, the GTX750 has performed very well so far, punching well above its weight and far exceeding my expectations for a hammer of this size.
However, it is early days yet and we have a long way to go before we can say that the 'cost of purchase vs cost of repairs, downtime and frustration' has been worth it.
Please leave a message
In our efforts to determine details on repairs, servicing, spare parts procurement, costings, freight and expected time delays for this story, we attempted on several occasions to contact the Chinese manufacturers but to no avail.
Our contacts in China also made attempts to have some questions answered via telephone and email but, again, the manufacturers were unavailable to comment.
My questions to them were exactly as listed above and spare part procurement, costs and timeframes from order to delivery were high on the list of priorities.
The verdict
While the GTX750 hydraulic rock breaker has performed admirably so far, we know that something will go awry and that that time will undoubtedly be on us soon enough. It wouldn't be a problem if it was one of the many Asian-made attachments available through Aussie distributors and dealers, but being a grey-market purchase it's a big worry that we are unable to contact the manufacturer.
It is understandable that the local distributors of other brands show reluctance in performing any repair or service work on the imported cheaper brands, so we could be in a very tight spot when we need assistance.
One of the issues with the dumping of equipment and attachments onto the Australian market is that it undermines the moral and ethical basis of supply and service provided by our distributors.
These guys have outlaid millions of dollars in securing a dealership and, in doing so, have provided workshop facilities, hired staff with the mobile and technical expertise to handle the repairs and maintenance of the equipment, employed sales and administration staff to handle all of the enquiries and gambled on the Australian market to be buoyant enough to continue projected sales of purchases, sometimes made 12 months in advance.
If we undermine our support industries in Australia, we will surely be going down a long, narrow path of no return.
Internet shopping is upon us, and there's no denying that many of you will find the overseas offers attractive. Just remember that when things go awry, as they inevitably will, you will have to turn to someone for assistance in either repairs or spares – and don't be surprised if you are refused assistance by many of the reputable distributors of other brands. After all, you will be contributing to the demise of such services.
Subscribe to our newsletter
Sign up to receive the Trade Earthmovers e-newsletter, digital magazine and other offers we choose to share with you straight to your inbox
You can also follow our updates by liking us on Facebook. 

Loaders For Hire | Dozers For Hire | Excavators For Hire | Forklifts For Hire | Machinery Attachments For Hire