Tow test: Mitsubishi Pajero Sport GLS SUV
---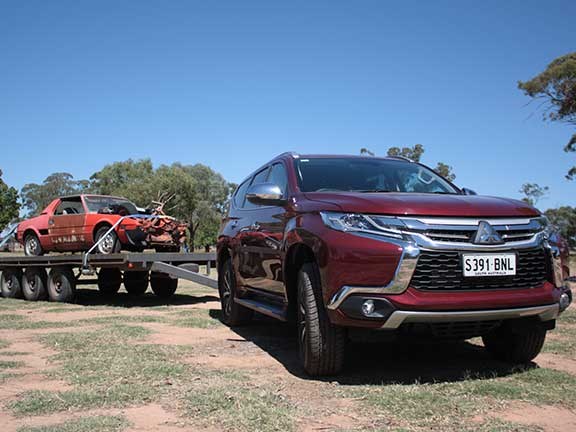 The Pajero handled classic car transport duties well; it's a competent tow vehicle with a couple of tonnes behind it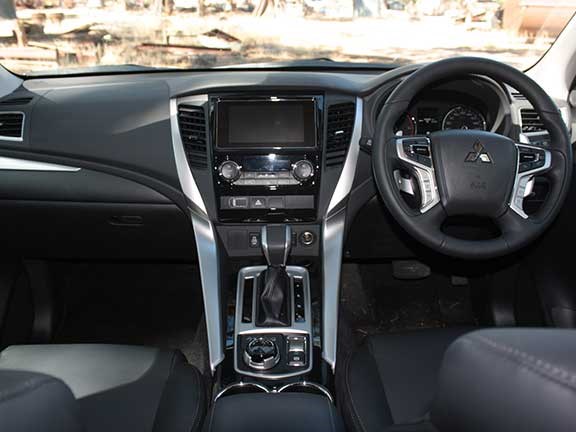 A comfortable and easy-to-live-with cockpit. The leather chairs are a nice touch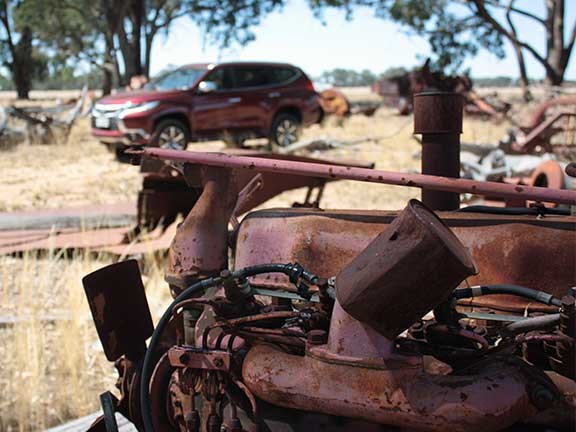 Engine technology has come a long way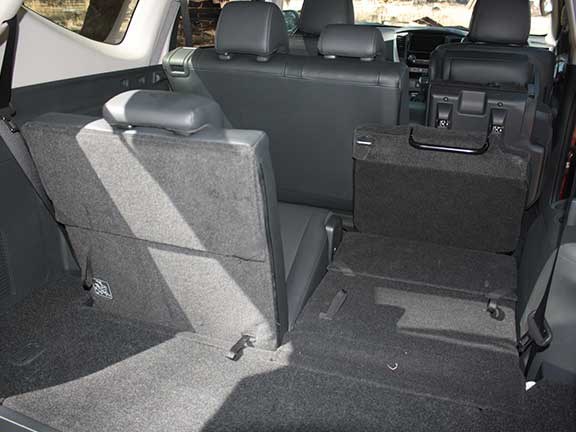 With the seats folded there's 1624 litres of load space on offer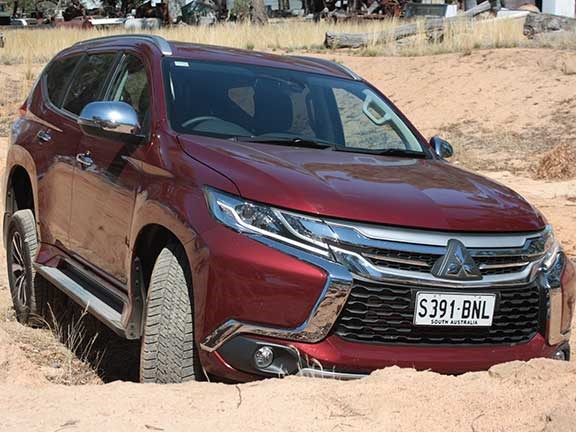 Mitsubishi's Super Select 2 4WD system is intuitive and easy to use. The Pajero Sport is a good thing in the bush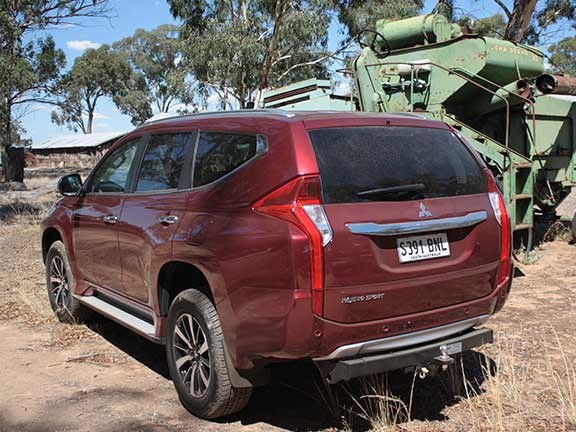 Matt Wood calls the design language 'Transformer Kitsch'

In general, the styling of Japanese vehicles tends to fall into four loose categories: bland; practical and inoffensive; Hello Kitty; and something that someone came up with after a blurry night featuring sake, pachinko and seafood.


I can only imagine that the acidic, fishy burps would've been quite unpleasant as the Mitsubishi Pajero Sport took shape on a designer's computer that head-thumping morning ... let's just say its exterior styling is polarising.
But looking past that, it's quite a capable country car that can hold its own in the rough stuff, haul a decent trailer, hammer along a country highway, and brave the urban grind. Given the way it's priced, it's also quite good value as well.
Ute-based SUVs have become a 'thing', with most of current ute models having an SUV spin-off – save the Volkswagen Amarok and the Nissan Navara.
They share a ladder chassis with their ute siblings and are usually mechanically similar. The major difference is generally a coil-sprung rear suspension. A couple of the key players, the Isuzu MU-X and the Ford Everest, also have two-wheel drive options. 
The Mitsubishi Pajero Sport GLS you see here uses a three-link coil-sprung rear end. It can carry seven people – the second-row seats roll forward and third-row seats fold flat to allow for carrying a load.
Wagon v ute
There is a bit of an argument for the practicality of these wagons as opposed to, say, a dual-cab ute with a canopy.
On the one hand, the clear advantage of a ute tub and canopy is that you can turf dirty and smelly stuff in the back without mucking up the interior.
Another advantage for a ute is load restraint. Stuff floating about in the back of a ute isn't going to clock you in the head in the event of an emergency stop. In a wagon without a load barrier, it could.
But, that said, wagons like this Mitsubishi give you a bit more space to work with if you need to chuck some stuff in the back on occasion. With the second row of seats rolled forward and the third row dropped there's 1624 litres of space, though this is admittedly accessed through a pretty narrow hatch opening.
Walkaround
Inside, the Pajero Sport is comfortable and well appointed. In the best tradition of modern Japanese vehicles, all controls are familiar and easy to reach.
The centre stack and touchscreen proved easy enough to use, and the Mitsubishi is equipped with Apple CarPlay and Android connectivity to keep phone use and entertainment safe and legal.
On a long trip the front pews are supportive and comfortable, but from a rear passenger's point of view there aren't many ventilation options, leaving anyone in the third row dependent on those in the front having the climate control cranked. Or the second-row occupants being nice and opening a window.
I don't particularly care because I'm usually the one in the front driving.
Under the bonnet, the Pajero Sport uses the same 2.4-litre turbo-diesel as the Triton ute and makes 133kW (178hp) at 3500rpm and 430Nm at 2500rpm.
It's a peaky little unit and, in many ways, its power delivery isn't unlike some petrol engines with a power range fairly high up the tacho.
My experience to date with this engine is that when unladen it's quite a frugal little power plant, though it can be laggy under load as it takes a while for the turbo to do its thing.  
Behind the 4N15 D4 engine (sorry, just love to geek out on engine nomenclature) is an 8-speed torque converter automatic, which no doubt contributes to the Mitsi's claimed fuel consumption figure of 7L/100km. 
Put to the test
As this is a tow test, what we were really interested in was towing.
The Pajero Sport is rated to tow a braked load of 3100kg (the same as the leaf-sprung Triton ute). With a kerb weight of 2060kg, I'm not nuts about the idea of regularly towing more than three tonnes with a relatively light vehicle that also has quite a short wheelbase. Gross combination mass comes in at 5,400kg.
But it's fair to say that many people will still haul a couple of tonnes regularly.
To see how the SUV handled, I thought I'd hook a decent load behind it. 'Decent', of course, is in the eye of the beholder as my cargo consisted of a Fiat X-19. Anybody who has been unfortunate enough to own one will object to the word 'decent' ever being used in the same sentence as the words 'Fiat' and 'X-19'.
The rather battered-looking, yet complete Fiat you see here was a California car, so, including the smog gear, the rather asthmatic excuse for a 1.5-litre engine, the spiders living in the fuel tank, and a dead stumpy tailed lizard, it tipped the scales at 1010kg.
This was to be the safest X-19 test-drive in history, because as the car was being towed, there was no opportunity for it to break down or break in half. Being a rather still day, I could almost hear the rust mites still gnawing away at the sub-frame.
There's a bit of heft in the tri-axle trailer I was using as well. So we're looking at a tow weight of just under 2000kg.
What the Paj Sport may lack in low-down torque delivery under load it claws back in available gearing. The 8-speed 'box does manage to find a gear for all occasions when hauling up to speed.
With 6-speed transmissions being the norm in the current ute/SUV space, additional ratios come in handy as the trend towards smaller displacement engines continues. Some brands are already offering 9- and 10-speed automatic transmissions.
As I said, the Mitsubishi's 2.4-litre power plant is quite a peaky unit and there's quite a bit of turbo lag, but once over 2000rpm it starts to get the message to have a go at hauling.
I'm still rather dubious about the trend towards light truck tow ratings for passenger cars and utes. That said, with a realistic, real-world type of load behind it, the Pajero Sport performed quite well.
It has a shorter wheelbase than its ute sibling – 2800mm vs 3000mm – but with quite a large trailer behind it, the Mitsi held the road quite well with little tail-wagging-the-dog action. Rougher country blacktop road surfaces didn't manage to upset it either.
This is quite a testament to the coil-sprung rear end of the Sport which, unlike the rest of its ute-based SUV competitors, shares the same tow rating as its ute counterpart. 
Fuel consumption is interesting. Lightly loaded and without a trailer, the Mitsubishi is impressively efficient. I averaged less than 8L/100km, which is saying something as I tend to have a pretty heavy right foot.
When it comes to towing economy, though, I noticed a sharp increase in consumption. Under load, with a trailer on, I averaged 11.8L/100km, which admittedly isn't huge but it puts it in similar efficiency territory to other competitors with larger-capacity engines.
The bottom line
I doubt there are many people who will use the Pajero Sport as a strictly working vehicle. I'd say it is a versatile hauler of people, 'stuff' and trailers, though I wouldn't want to be consistently towing at its specified limit.
It's also pretty handy off-road too; Mitsubishi's Super Select 2 4x4 system is easy to use and performs well. This system features an all-wheel-drive mode that can be selected on the move in wet or icy conditions.
The coils all round provide decent wheel travel. The GLS version here also gets a rear diff-lock. 
The rear-end styling of the Pajero Sport could well be called 'Transformer Kitsch' but this Mitsubishi is a worthy contender in the light 4x4 wagon market and a decent hauler of old Fiats.
Subscribe to our newsletter
Sign up to receive the Trade Earthmovers e-newsletter, digital magazine and other offers we choose to share with you straight to your inbox
You can also follow our updates by liking us on Facebook. 

Loaders For Hire | Dozers For Hire | Excavators For Hire | Forklifts For Hire | Machinery Attachments For Hire