Review: Polaris General Deluxe MLP UTV
---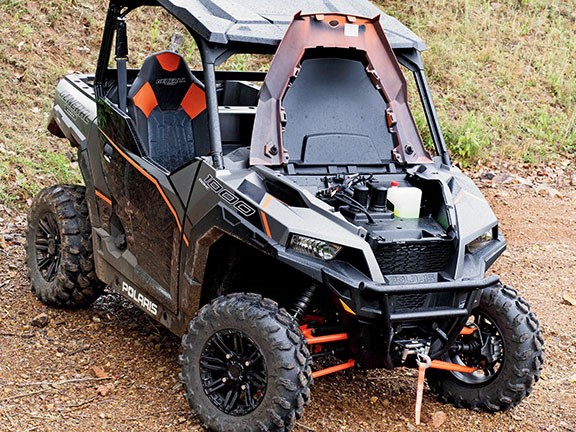 Regular service points are easy to get at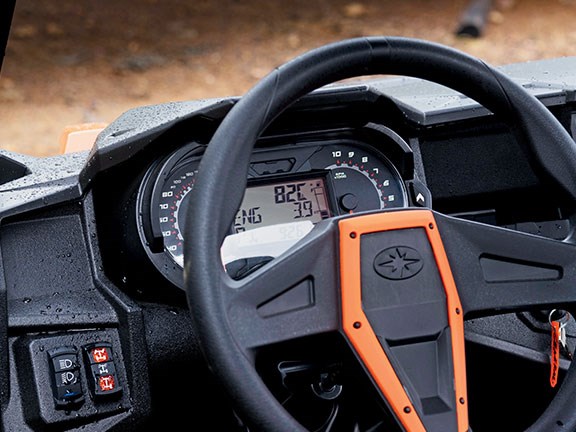 The big, bright easy to read instruments of the Polaris General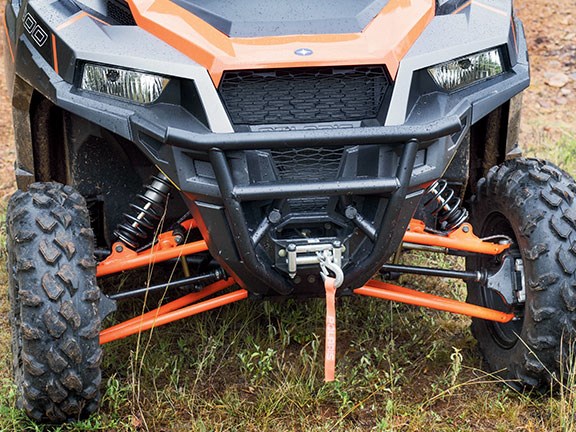 The General MLP's standard winch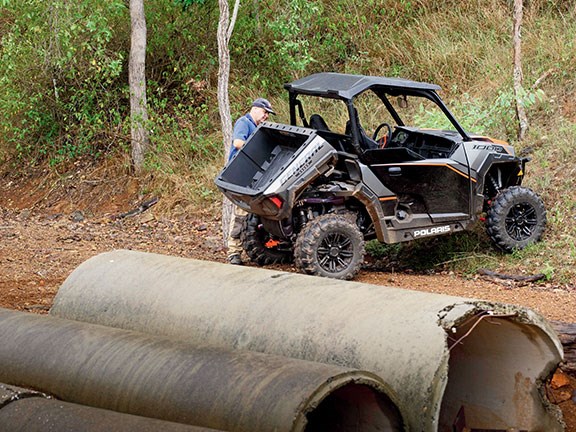 The average sized ute tray

Polaris has launched the flashiest UTV on the market, the General Deluxe MLP.


Okay, I'll kick this off by stating the obvious: the Polaris General EPS Deluxe UTV isn't for everyone. First up, it's 28,000 bucks, which in street terms means it's a machine for people who always buy the trickiest they can find.
This is the all-you-can-eat UTV. Everything you see comes as standard equipment – the roof, a stereo with eight speakers, the flash paint job, the power-steering, the winch, all of it. And it's a professional people mover, not a load carrier.
Three models are up for grabs. Polaris gave us the top-of-the-line unit but below that is the 1000 EPS Premium MLP at $24,495, and there's a four-seater Deluxe MLP for $29,000. All models come with a winch.
Even 60 seconds browsing the Polaris catalogue will show you how much you can add to the base model. We were a little surprised the test vehicle didn't have a windscreen but that's one of the accessories you can buy, along with door extensions and a rear window which, combined, create a weatherproof cab for those who live in Melbourne or Mawson Station.

Compare the General's specs with those of a comparable Polaris UT – the Ranger 900 EPS, say – and you'll notice subtle differences. The General is slightly longer and wider, but lower. Its payload capacity is lighter (500 versus 680kg), its occupant capacity two rather than three, and it has a lot more suspension travel at both ends.
The General also gets larger 27x9-14 and 27x11-14 Maxxis Coronado rubber on cast aluminium rims. These tyres provide plenty of traction on surfaces the General is likely to encounter as a people mover but we'd like to point out one idiosyncratic characteristic: like other heavily treaded tyres, these slide enthusiastically on loose surfaces, which is great fun, but once they come in contact with a more grippy surface, like grass, they will hook up immediately.
Unfortunately, this reshaping of trajectory can take you in a direction contrary to the slide. In other words, you'll be sliding nicely one second then the next second accelerating hard towards the outside of the turn. If you're inexperienced and unprepared for it you can end up with the vehicle resting at an angle not recommended by the manufacturer.
Granted, we might irritate some with this statement. However, fellow tester Reg Grant and I have seen this characteristic so many times in high-powered off-road equipment that we now take it for granted.
Polaris doesn't give an output figure for the fuel-injected, 999cc twin (we asked for it but the company declined to comment), so our stab in the dark is around 100hp. We say that because we've driven the somewhat comparable Yamaha YXZ1000R, which feels similar and is said to produce around 112hp.
The transmission is an auto, which is interesting because in the YZX1000R Yamaha went for a 5-speed manual box, a decision that has drawn nothing but criticism from all the auto-loving gangbangers on UTV forums.
Gear selection mechanisms are all over the place in ATVs and some of them are godawful. Death metal crunching accompanies gear selection in the cheapest Asian imports, and even some of the not-so-cheap ones, but, given the sort of clientele likely to purchase a General, Polaris has made sure the selector picks up the chosen gear with no musical accompaniment. It's smooth as.
Polaris's On-Demand four-wheel drive system is magic. You really do put the thing in gear then forget about it.
In four-wheel drive mode the transmission will actually select three-wheel drive and engage the fourth wheel when conditions deteriorate. All this is done without the operator noticing anything.
One-wheel drive Turf mode, or what Polaris calls VersaTrac, can be engaged when the vehicle traverses easily damaged surfaces, but we know from experience that a Polaris UTV will handle shallow river crossings and trundle along bush tracks with only one wheel driving.
This has its advantages. You use less fuel in one-wheel drive and enjoy the benefits of a smaller turning circle.

In the cab
The seats in the Polaris General Deluxe MLP UTV are comfortable semi-sport items with lap-sash belts.
A large grab-handle is positioned between the passenger seat and the centre storage console – the passenger will need it – while the large, bright instruments give you more info than you need and the power-steering is pleasantly neutral.
There's no mechanical park brake; Mr P is in the gearbox.
In-cab noise? Yeah, there is a little. When you put a roof on a UTV it gets noisier inside the cab because engine noise hits the roof and ricochets.
There's not a lot you can do about it, though it has to be said that some brands are noisier than others and the Arctic Cat we tested was most raucous of all.
Engine noise inside the General isn't what you'd call deafening but is noticeable.
The bottom line
Everything about the General says people carrier. Hard-working load carriers don't need 100hp, they don't need a top speed of 130, and they don't need Fox Podium shocks. The General needs all these things because it's designed to get two people from A to B as quickly as possible and in as much comfort as a small UTV cab will allow.
Reg Grant and I still believe the Can-Am Defender has the best cab in the industry, but we haven't driven a side-by-side that will cover ground as quickly as the General.
It's bloody quick and, to be frank, would not feel as stable as it does were Fox gear not part of the deal.
On a typical farm road or trail the suspension is so good at soaking up bumps and humps there's very little you have to slow down for. The transmission is geared low too, so engine response is instantaneous – which, in combination with the brilliant handling can, in a moment of unjustified self-adoration, make you feel like a rally driver.
And, of course, that's exactly the point. This is the fastest, best-handling UTV we have ever seen.
Subscribe to our newsletter
Sign up to receive the Trade Earthmovers e-newsletter, digital magazine and other offers we choose to share with you straight to your inbox
You can also follow our updates by liking us on Facebook. 

Loaders For Hire | Dozers For Hire | Excavators For Hire | Forklifts For Hire | Machinery Attachments For Hire