Used equipment test: HyuTomoTachi excavator
---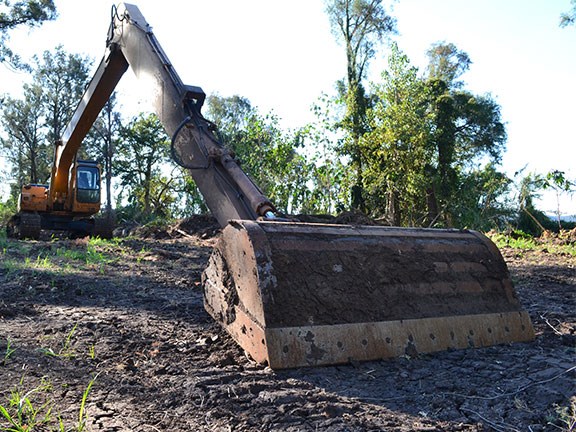 The Hyundai R210LC-3 excavator mainframe with its Sumitomo 18m long-reach boom and dipper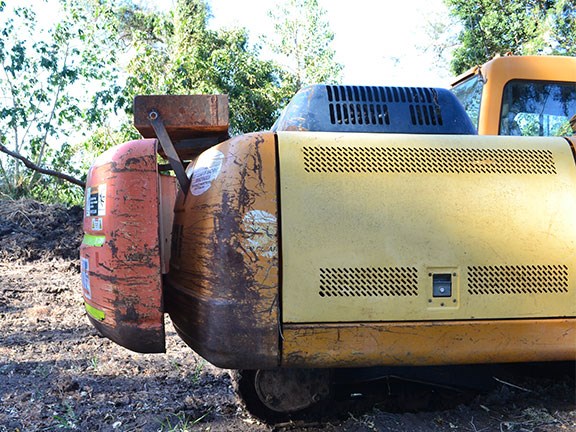 Interesting take on the counterweight extensions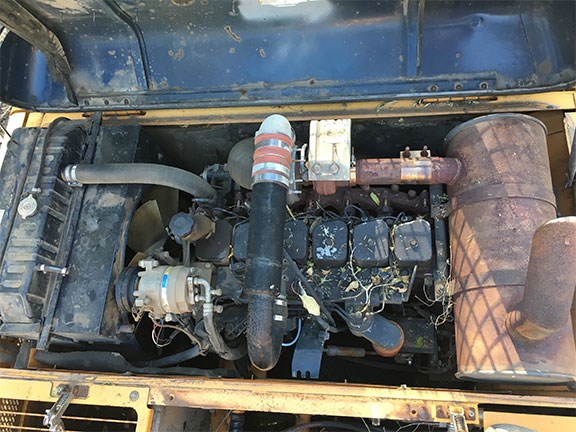 Cummins B5.9-C turbo-diesel engine runs about 100kW

Check out Australia's only Hyundai-Sumitomo-Hitachi long-reach excavator

Hyundai R210LC-3 body


22-tonne Sumitomo long-reach boom and dipper arm


Extra Hitachi counterweight

In this world of earthmoving and construction I find it remarkable just how and where one tends to find blokes with the same mindset and passion.
Not that long ago, while driving along a narrow, gutted but sealed section of SE Queensland road I use as a shortcut to get from the farm to the highway, I spotted the glint of a hydraulic ram popping its head above a levee bank at regular intervals.
Now, to an old, inquisitive bastard like me that could only mean one thing … a long-reach excavator. And, naturally, I just had to go and see it.
To tell you the truth, what I found was not what I expected to see but it made me more inquisitive than ever.
I hopped out of the 'Cruiser, introduced myself to the boys on site and was shown … a real ridgy-didge, Aussie home-made long-reach excavator dragged from the bowels of the wrecking yards and bastardised to the point where it took three brands of excavators to make the end product for a fraction of the cost of a conventional off-the-shelf used machine.
What I found was a Hyundai R210LC-3 excavator mainframe with a 22-tonne Sumitomo long-reach boom and dipper arm and an extra Hitachi-branded counterweight.
Innovative? You betcha!
The Man
Trevor Baker is a local Boonah bloke who completed his diesel fitter apprenticeship more years ago than he would like to remember. He has lived in the area most of his life, done the real hard yards as a kid on a dairy farm, apprenticed locally in the rural community, worked FIFO in the mines and came back home to crank up a part-time business in the earthmoving game.
Being local and having full knowledge of and contacts in the area, it didn't take long for the major farming conglomerates to get hold of Trevor and the rest is history.
As a kid Trevor did it tough and had to do without more times than not. To get ahead he had to be innovative, creative, practical in his application to chores and become more than just the 'go-to man' … Trevor had to become THE man.
Money has never been too easy to accumulate in this rural environment, as is with most rural areas, and Trevor learnt over the years that issues like fluctuating market prices, floods, drought and increasing transport costs cause cash-flow issues in all farming areas.
So he knew that, to provide a service at a very attractive price to his rural clients, he had no option other than to source very-well-used, very inexpensive (but salvageable) items of equipment.
Utilising skills learned from the diesel fitting and machining trade Trevor went to the wrecking yards in search of inexpensive equipment which he could modify to suit his requirements. It also needed to be easily transportable – that is, under the width needed to require an escort vehicle.
And this is how he built Australia's only Hyundai-Sumitomo-Hitachi long-reach excavator.
Creating a monster
While searching through a wrecking yard Trevor came across a very inexpensive but new long-reach dipper and boom designed for a 22-24-tonne Sumitomo excavator.
The new old stock (NOS) had sat there for quite some time so a deal was struck with the wreckers.
Now Trevor had to find a really cheap excavator to suit. Again the wrecking yards became the 'op-shop for diggers' and he found a 2003-era Hyundai R210LC-3 excavator with 18,000 hours on the clock.
Closer inspection and a test run showed that the excavator was more than a bit rough around the edges, but Trever used his negotiating skills to arrange not only for another engine to be included in the sale but a truck-load of other spare parts as well.
Part two of the deal was done. 
After floating the items back to his extensive and well-designed workshop Trevor set about line-boring and re-bushing the Sumitomo boom to suit the Hyundai 210. This enabled him to re convert the 'Hyundai long-reach' to a conventional digger should the time and occasion arise.
Further testing on the Hyundai showed that the engine was not up to scratch so a replant of the spare engine was done.
Not being content with the manufacturer's suggestions of bucket sizes for the long-reach Trevor decided that, to give his clients the best value for their money, he would use the Hyundai's conventional standard mud bucket on the end of the 13m boom and dipper.
This, of course, created other issues with balance so Trevor headed back to the 'op shop for diggers' and procured another counterweight, this time from a Hitachi.
This was fitted to the rear of the existing counterweight (along with a big steel slab, to be sure, to be sure)  and there it was – 'The Man's' own one-of-a-kind Hyundai-Sumitomo-Hitachi long-reach excavator, built for a fraction of the cost of buying an off-the-shelf item.
Now this might not be certifiably engineered but, by crikey, you have to take your hat off to Trevor's innovation and creativity.
These qualities, along with a good dose of determination, have been bred into the old school of Aussie battlers and goes way back to our convict settlement days, touched with a bit of the bushranger bloodlines.
On the job
The cab definitely shows signs of its age, and there's no 'wrinkle cream' available to cover the age lines that go with age and hard work.
Its pins and bushes have been re-pinned and re-bushed, it has very few oil leaks, and is a beast in operation.
The Hyundai runs a simple Cummins B5.9-C turbo-diesel engine producing 101kW and weighs in at about the 24-tonne mark with the long-reach boom and dipper fitted.
With its 1.5m-wide mud bucket on the end of a near-18m reach, its 13m dig depth boom and dipper and its extra counterweights, this 'bitsa' is really a surprise packet.
Trevor has it balanced out pretty well, and the slew and slew brake handle the load well. Though it still looks rough around the edges and average in the cab, this machine does exactly what Trevor requires it to do: dig, dig, dig and keep digging.
"It's as simple as that," he says.
The bottom line
Engaged by local farmers to desilt and cleaning out sediment basins, Trevor has been able to fill a void in the region and, with a loyal clientele, provides an invaluable one-stop-shop service to the rural community at a very competitive price. 
Trevor has a few other items of gear, including a skid-steer loader,  flat-drum roller, water truck, Kenworth cab-over prime mover and drop deck float, a 13-tonne Hitachi excavator (with its original counterweight still intact) and another resurrected wrecking-yard special – a Cat D250E articulated dump truck.
It is certainly a testament to Trevor's skills as a fitter, operator and businessman that he can build, repair and operate heavy machinery and negotiate his way through his day-to-day operations as sole operator, fitter, float driver, maintenance man, office bitch and bill payer.
It is to blokes like Trevor that I take my hat off. Blokes like him are the backbone of our industry.
Subscribe to our newsletter
Sign up to receive the Trade Earthmovers e-newsletter, digital magazine and other offers we choose to share with you straight to your inbox
You can also follow our updates by liking us on Facebook. 

Loaders For Hire | Dozers For Hire | Excavators For Hire | Forklifts For Hire | Machinery Attachments For Hire