Review: Kubota X1140 UTV | Full Test & Specs
---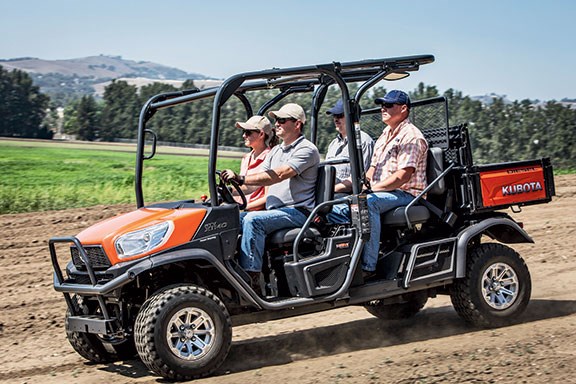 The X1140 can alternate between two and four-seats, depending on whether you have the cargo bed retracted or extended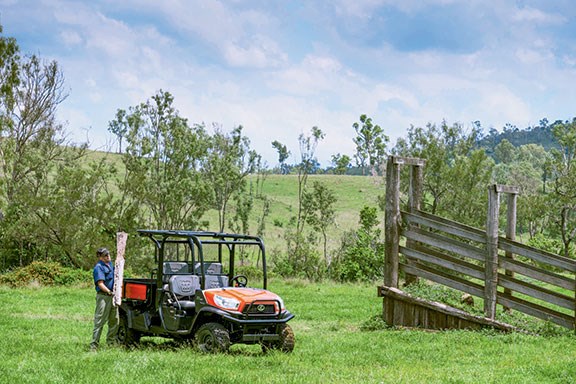 The only drawback is the low maximum travel speed (40km/h)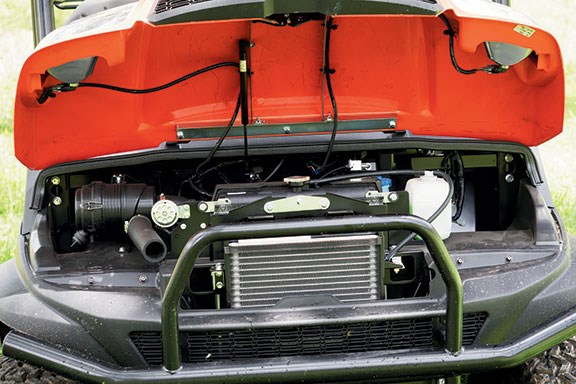 Regular maintenance items – you know, those things you check every decade or so – are easy to reach and attend to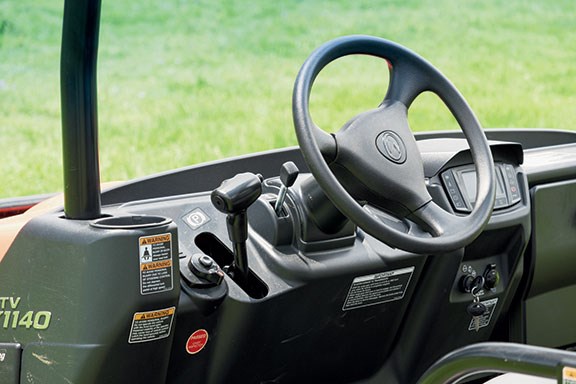 The cab is comfortable and well laid out. The mechanical handbrake was very stiff but probably needed adjustment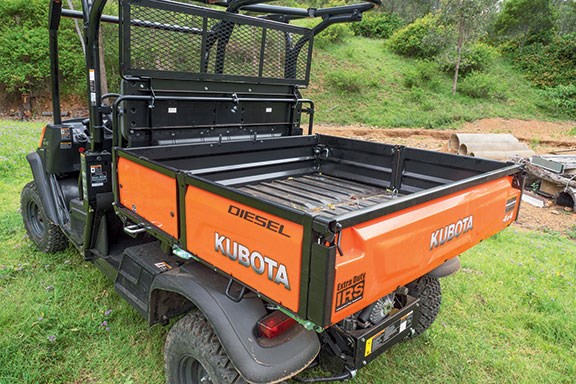 By folding the rear seat forward, the cargo bed front and sides extend. It has hydraulic tilt too, so you can put heavy stuff in there, then dump it without suffering yet another hernia

Kubota's X1140 people mover has everything it needs to succeed in the working UTV market, but a little more power wouldn't hurt, says Barry Ashenhurst

Kubota doesn't build toys, it build tools. The X1140 is well made and, I'm pleased to say, lacks the flimsy plastic components seen on many UTVs these days.
Our impression after operating this diesel thing all day on our testing ground in Queensland was that whoever put it together wanted it to stay together.
Driving the show is a 3-cylinder Kubota diesel with a capacity of 1123cc. There are motorcycles with larger engines. Maximum output is said to be 24hp (18kW) at 3000rpm.
This meagre amount of grunt is passed to the wheels through a hydrostatic transmission. The front diff is a limited-slip unit and the rear diff incorporates a diff lock, manually operated by a foot control on the driver's left side. We like that because the operator decides when to use the diff lock, and for how long.
Fuel tank capacity is 30 litres, which is generous, but does the Kubota have enough power to get through a day's work? Eighteen kilowatts won't exactly shoot you up steep hills, and if you're carrying a big load, living or otherwise, you could need low range much of the time, which makes the engine work harder and use more fuel.
This vehicle reminded us of the two-seater JCB side-by-side we tested on a frigid afternoon in Tassie. It was capable and comfortable but it too needed another 10hp. Our brand-new Kubota hit 37km/h, then left the building.
This speed thing is a problem. It's in man's nature to maximise the performance of his mechanical devices, even farm vehicles. We always want bigger and faster.
I remember when 300kg was thought to be a practical limit for working ATVs, but today we have much heavier units, with travel speeds topping 100km/h. Polaris and Can-Am led the charge towards more power, but what the X1140 shows is that Kubota prefers to walk on the safe side – and with UTV accidents now on the rise, we can see why.
Having said that, another 10hp wouldn't turn the X1140 into a quarter-mile tear-arse but it would improve its general operational capability.
Suspension front and rear is by independent dual A-arms, a pretty common setup these days. Ground clearance is 285mm on the front and 240mm up the back.
The ride is excellent, but this is not a serious cross-country vehicle. It's a serious site vehicle that can handle a bit of off-road stuff. Maybe that's why the brochure depicts the X1140 operating on perfectly flat ground, and why the standard spec has no front or rear CV guards.
The Polaris Ranger diesel is the only vehicle we know that is close to being as slow as the Kubota or the JCB, but it makes up for that with the ability to go almost anywhere, even in Turf mode. That grumpy old thing is a rough terrain warrior. The Kubota isn't, but it is more comfortable and that counts for something when you're sitting in it all day.  
Like the last Kubota UTV we tested, this one had a hydrostatic transmission. No doubt this fancy bit of gear adds to the machine's considerable purchase price of $23,130.
But, according to mechanical theory anyway, a hydrostatic transmission lasts longer and needs less maintenance because it's sealed off from abrasive gunk that can cause expensive havoc in a conventional transmission.
We don't know if this theory has actually been proven in small vehicles like this one, but variable hydro transmissions are certainly standard issue in heavy earthmoving equipment where contamination can be an expensive problem and forensic oil sampling is employed to detect or prevent it.
Pimp my ride 
Steering was hydrostatic and first class. Controls were straightforward and familiar to anyone who drives these vehicles. The gear selector on our brand new test machine was very notchy, but of course you'd expect that to improve with use.
There was no Park position in the L-H-N-R transmission gate so we were forced to use a stiff handbrake that craved adjustment. In the interest of achieving a more linear performance in what is otherwise a very smooth machine, we'd like to see P in the gate, though we don't expect Kubota to P on command.
Since a picture is worth 1000 words, or in this case 2000, our video shows it better, but here's a brief explanation of how the cargo bed works:
The cabin layout can alternate between two and four seats, depending on whether you have the cargo bed retracted or extended.
As a four-seater it has the smaller cargo bed, albeit with hydraulic tilt. When you fold the rear seats out of the way, so they're hard up against the rear of the front seats, you make room for the front and side cargo bed extensions, taking bed capacity from 0.28m3 to 0.54m3.  It's a brilliant idea that counters what is often a weak point with UTVs: the small cargo bed.
There was plenty of storage space too. Apart from the usual passenger-side glovebox, you get access to large storage bins by removing the front seat cushions. 
Driving this machine is a pleasant experience. Engine and transmission noise are unobtrusive and ride quality is good. The driver's seat is adjustable fore and aft and the steering wheel has tilt adjustment. Instruments are clean and legible, and one of the alarms tells you that the hard working little donk is close to overheating.
There were no doors on our test vehicle, solid or net, only a metal bolster to help you remain on the property should something horizontal occur.
Our vehicle came with a robust-looking ROPS. There was no windscreen but Kubota offers three options: poly, laminated glass or plain glass. There was no rear-view mirror either, which we thought was strange, but that's an option too. Among other options are: 
•             LED worklights
•             A winch kit
•             A 2-inch trailer-hitch ball mount
•             Windscreen wipers
•             Tail lamp guards
•             Back-up alarm
•             Front and rear mudguards
•             Front and rear CV guards (which should be standard)
•             Turn signals
•             Alloy wheels
The bottom line
What we like most about this bright orange people mover are the solid build quality and downright functionality. Space enough for four people ensures their comfort over shortish distances, while the extending cargo bed will win fans all over the place. This is not a tractor made by a scooter manufacturer, it's a tractor made by a tractor manufacturer. We liked it.
| | |
| --- | --- |
| Engine | 3-cylinder, 1123cc diesel |
| Output | 24.8hp (18.5kW) |
| Fuel Capacity | 30 litres |
| Transmission | Variable hydro |
| Maximum Speed | 40kp/h |
| Towing Capacity | 590kg |
| Front Diff | Limited slip |
| Rear Diff | Foot-operated lock |
| Suspension | Dual A-arms front and rear |
Subscribe to our newsletter
Sign up to receive the Trade Earthmovers e-newsletter, digital magazine and other offers we choose to share with you straight to your inbox
You can also follow our updates by liking us on Facebook. 

Loaders For Hire | Dozers For Hire | Excavators For Hire | Forklifts For Hire | Machinery Attachments For Hire