Review: Volkswagen Amarok V6 Sportline
---
The Sportline is the latest and most affordable model in Volkswagen's Amarok V6 range, Fraser Stronach writes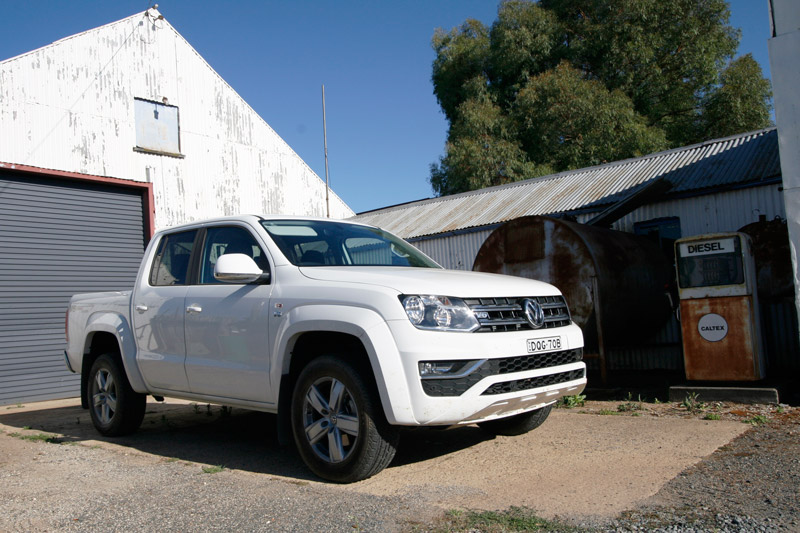 Volkswagen's Amarok is the oldest of the mainstream popular utes currently available in Australia, arriving here in 2010, but has been kept fresh by various updates, the most recent and the most significant being the introduction of a 3-litre V6 turbo diesel engine in late 2016.
The V6 is only available in 4x4 models and only with an eight-speed automatic gearbox and a single-range full-time 4WD system. A manual V6 with dual-range 4WD has been promised for later in the year.
When it initially arrived in late 2016 the V6 was only offered in the well-equipped Highline ($60K+) and the even more luxurious Ultimate ($68K+), but in late 2017 VW introduced the Sportine as the new price leader in the V6 range. With factory discounting it's currently $55K drive-a-way, which makes it cheaper than the popular Hilux SR5 and Ranger XLT dual-cab 4x4s.
We have previously tested the more expensive Highland and Ultimate V6s, on their own and against its class rivals and have come away very impressed, so were keen to test this new 'budget' Amarok V6 model.
CLIMB ABOARD
Without the sidesteps and the chrome sports-bar the Sportline looks more like a working ute than a flash recreational/family ute, but it's still decently equipped.
Standard features include dual-zone climate control, front and rear parking sensors, a rear-view camera, Apple Carplay, four 12v sockets including one in the tray, four-wheel disc brakes and 18-inch alloy wheels. Compared with the Highline it loses the sat-nav, sidesteps, chrome sports-bar, tyre-pressure monitoring, bi-xexon headlights and LED daytime-running lights, so that's where the cost is cut.
Inside, the Sportline offers a reserved and nicely finished cabin that's notably comfortable and spacious. In fact, the Amarok has the widest cabin in its class, something that you'll appreciate if you have three adults across the back seat, even if the combined front and rear legroom isn't as good as the Ford Ranger or the Mazda BT-50, which have the longest cabins in the class. The Amarok also doesn't any rear-cabin airbags despite its ANCAP five-star safety rating.
PERFORMANCE
With 165kW (180kW on over-boost) of power and 550Nm on torque on offer, the Amarok's V6 is the most powerful engine in its class and delivers on that promise on the road, thanks in part to the relatively close ratios of its slick eight-speed automatic gearbox.
Not only does the Amarok's V6 offer the best response and pick up in its class, it's also the smoothest, quietest and most refined diesel you find in any of the mainstream utes. This engine, although detuned and strengthened for use in the Amarok, is a long-serving VW family engine that's been used in various Audi and Porsche models, which explains why it's more refined that the typical ute diesel.
And just in case you're wondering about the overboost function's 180kW, it only kicks in with 70 per cent or more throttle and then only in third and fourth gears. Effectively it gives sharper overtaking performance without any sense of the engine ever transitioning from normal over-boost operation. It's all totally seamless.
Seamless is also the best word to describe the eight-speed automatic gearbox, which offers near undetectable and always well-timed changes.
Sportline V6s come with a diesel-particulate filter (DPF) but not with selective catalytic reduction (SCR, or AdBlue), so comply with Euro 5 but not Euro 6 emissions standards. The original Highline and Ultimate V6s imported into Australia had AdBlue and met Euro 6 but this standard is still to come into play in Australia. Not having AdBlue with the Sportline is definitely a positive.
On test the Sportline used 10.5 litres/100km, which is a fair bit more than the official ADR combined-cycle figure of 7.8 litres/100km, but still equates to a reasonable range from the 80-litre fuel tank.
ON THE ROAD
The Amarok may be among the bigger utes in its class but it certainly doesn't feel it on the road. In fact, it feels surprisingly small, nimble and compact.
What's more, it has a reassuring and stable feel that no ute in its class can match, and excellent steering feel and response. Good ride quality too with the front and rear suspension well matched, something that can't be said of some of its competitors. When not carting a load the ride from the rear suspension is still pretty firm but that's unavoidable with any ute that can still muscle up with a decent load in the tub.
The Amarok V6 has another significant advantage over just about all of its competitors, and that's full-time 4WD. Full-time 4WD offers grip and safety on wet bitumen, or any slippery surface for that matter, that part-time 4WD utes can't match.
Full-time 4WD also means no switching back and forth between 2WD and 4WD on surfaces that alternate between high-traction and low traction. The only other ute to offer full-time 4WD is the Mitsubishi Triton, and then only in up-spec dual-cab models.
AT WORK
The Sportline V6, being the lightest of the Amarok V6 models, has the highest payload, a healthy 1002kg. The Sportline also matches the highest-rated utes in the class with a 3500kg (braked) tow rating and a 6000kg gross combined mass, which is the weight of the vehicle plus what you are carrying and towing, all combined.
With the test Sportline not being fitted with a towbar we couldn't carry out a tow test but we did drop 800kg in the tub so see how it would carry a load. The verdict: it did it easily, both in terms of how the chassis and the engine coped with the load. While the rear dropped, as you'd expect, the overall ride stance was quite level rather than nose-up, and the rear suspension didn't bottom-out over bumps, nor did the front suspension top out. The engine did it more easily again and hardly felt the weight at all, no doubt thanks to its class-leading 550Nm of torque.
Like all Amarok models, the Sportline can take a full-size pallet between the wheelarches of the factory tub, which is something all of its direct competitors can't do. Four sturdy tie-down points are located on the floor of the tub, which is a far better arrangement than locating them on the sides of the tub. A standard tub liner and a 12-volt outlet in the tub are also handy features.
OFF ROAD
You may think that without low-range gearing the Amarok would struggle off road but that's not the case. In fact, it's one of the best utes in its class in difficult off-road conditions and out-performs many utes that have dual-range gearing.
With its eight-speed automatic there's a reasonably low first gear but the torque convertor is also calibrated so as to compensate for the lack of low range.
Better still, you can go from cruising down the highway at open road speeds to climbing a difficult fire-trail hill at walking pace without touching a button or a lever as the Amarok is already in 4WD and there's no low-range to select.
The Sportline does, however, offer some off-road options. There's an 'off-road' button that activates the hill-descent control, a driver-switched rear differential lock for particularly tough off-road conditions, and you can also cancel the electronic stability control, as you need to do for soft sand and mud.
SUM UP
The Sportline V6 makes a convincing 'buy-me' argument from just about any perspective you can to name: work credentials; performance; handling; refinement; off-road ability; and cabin space.
Not so good from a safety perspective is the lack of airbags in the rear of the cabin.
Volkswagen dealers are also a bit thin of the ground, especially in country areas and service costs tend to be higher than most competitors. Some independent workshops also may not be as happy servicing an Amarok, as they would be something like a Toyota Hilux.
The Sportline comes with a three-year unlimited kilometre warranty, which is the general industry standard although some manufacturers do better than this.
Volkswagen Amarok V6 Sportline specs
Engine: 3.0-litre V6 turbo diesel
Max. power: 165kW @ 2500-4000rpm
Max. torque: 550Nm @ 1500-2500rpm
Gearbox: eight-speed automatic
4X4 system: single-range full-time
Front suspension: independent/coil springs
Rear suspension: live axle/leaf springs
Front brakes: 332mm discs
Rear brakes: 300mm discs
Unladen weight: 2078kg
GVM: 3080kg
Payload: 1002kg
Towing capacity: 3500kg
GCM: 6000kg
Overall length: 5254mm
Width (inc. mirrors): 2228mm
Height: 1878mm
Wheelbase: 3095mm
Track (F/R): 1654mm/1658mm
Turning circle: 12.95m
Ground clearance: 192mm
Approach angle: 28.0 degrees
Ramp-over angle: 23.0 degrees
Departure angle: 23.6 degrees
Fuel tank capacity: 80 litres
ADR fuel claim: 7.8 litres/100km
Test fuel use: 10.5 litres/100km
Touring range: 712km*
*Based on test fuel use, claimed fuel capacity and a 50km 'safety' margin.
Volkswagen Amarok range price
TDI420 dual-cab/chassis 4x2: $38,490
TDI420 dual-cab ute 4x2: $39,990
TDI400 Core dual-cab/chassis 4x4: $42,490
TDI420 Core dual-cab/chassis 4x4: $44,990
TDI400 Core dual-cab ute 4x4: $43,990
TDI420 Core dual-cab ute 4x4: $46,990
TD1420 Core plus dual-cab ute 4x4: $47,990
TDI550 Sportline dual-cab ute 4x4: $55,990
TDI550 Highline dual-cab ute 4x4: $60,490
TDI550 Ultimate dual-cab ute 4x4: $68,490
*Official list price not including on-road costs. Does not include discounts and special drive-away pricing on some models.
Subscribe to our newsletter
Sign up to receive the Trade Earthmovers e-newsletter, digital magazine and other offers we choose to share with you straight to your inbox
You can also follow our updates by liking us on Facebook. 

Loaders For Hire | Dozers For Hire | Excavators For Hire | Forklifts For Hire | Machinery Attachments For Hire