Review: Cat 311CU excavator
---
Ron Horner ran into the owner of a tidy little Cat 311cu excavator he reviewed a couple of years ago and the conversation came around to how the Cat was faring these days
Ever wondered just how much money a machine could earn in its lifetime? I have, and after speaking to so many contractors and having the pleasure of owning over 50 excavators in my lifetime, the mind boggles at the answer.
We haven't done a follow up on any of our reviews to date so it was by chance that I ran into the owner of a tidy little Cat 311cu Excavator which I reviewed a couple of years ago and the conversation came around to how the Cat was faring these days.
When we looked at it in 2016 it had accumulated about 8000 hours for the 2008 model, was in need of some work to bring it up to scratch but had worked many of its hours in the difficult terrain of the Scenic Rim and beyond – steep, rocky and heavily timbered country.
I cheekily requested another look over and an updated review on the now 10,000-hour machine of which I was fortunately granted. Date and working address sorted, we 'coffeed' (no double caramel lattes here), shook hands and both looked forward to the catch up.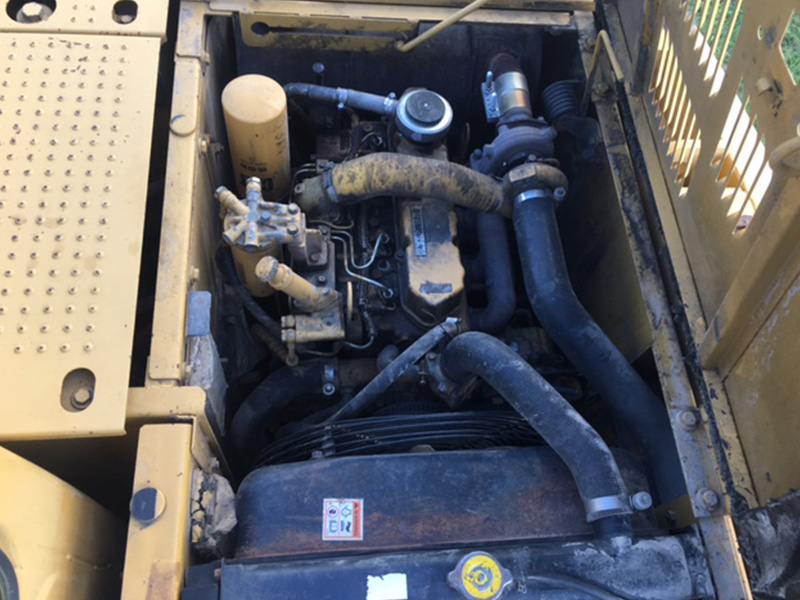 WALKAROUND
We were very fortunate when the owner dropped the Cat 311cu up to the testing grounds for us to check it over whilst it was cleaned and on its way to the next project.
First impressions are that, in my opinion, Cat got this one pretty well spot on for its day. Overall presentation of the 10,000-hour machine is pretty good considering its working conditions endured over the last five or so years.
A trained eye can immediately zoom in on some good points – namely the track tensioning, noticeable oil leaks, well-greased pins, squareness of the cutting edges or teeth, bucket or dipper arm slap due to well-worn pins, dents in body work, glassed cab in tack, overall cleanliness and presentation. All those boxes ticked off without a worry and, believe it or not, I'm keen to have a look at this little favourite of mine (I am known to tear up with some machines … I do tend to get a bit sentimental).
A few extra scrub scratches, a handrail missing, maybe a new small dent on rear off-side but minimal issues on a machine working in these conditions and of such age. Surprisingly to me, the tracks and track gear had not been touched in the two years since the previous review. A few crazy cracks had developed in the bushes housing the track pins, the drive sprockets which, in my opinion were pretty worn way back then, still had life in them.
This tidy little tractor just sat there patiently awaiting its interview and the time has come to give it a work out.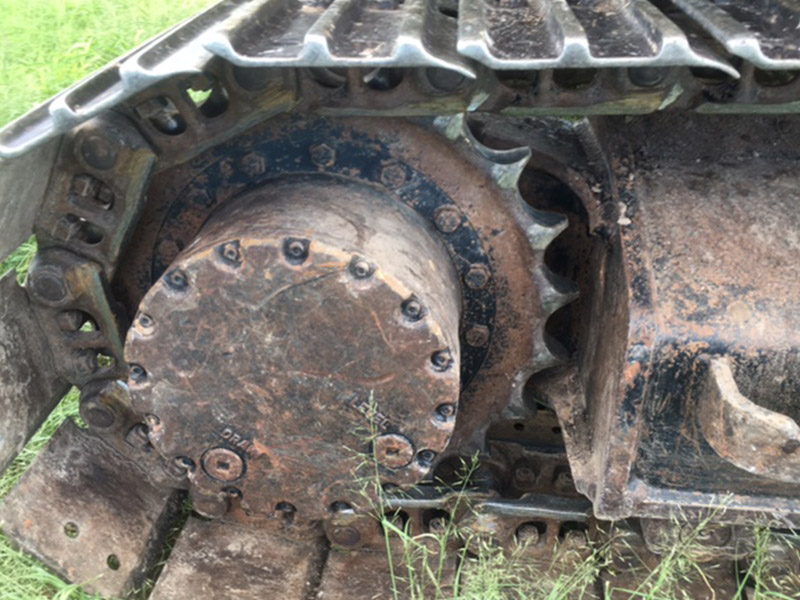 IN THE CAB
As in our first review, the cab was pristine. Dark tinted windows addressed the bloody hot and humid conditions of the Queensland summers and, with the AC set to 18 degrees, we had something in common immediately.
Seating in Cat gear has always been above par in my opinion. Good quality, firm, multi-adjustable and, if you have had a good cover on it, the Cat seats are just like new, even at the 10 year mark – fantastic.
As with all Cat gear, it doesn't mess up the dashboard with too many insignificant bells and whistles (well, not in this model). It's easy to identify, easy to read and laid out to the right-hand side of the control panel and facing the operator – perfect. Ignition switch, AC, travel speed, wipers, lights and throttle are all within a wrist action from the operator's seat but you will have to turn your head and look down to adjust or operate some of the switches due to the positioning of the arm rest.
Forward/reverse controls are in the normal position but foot controls for bucket tilt or hydraulic flow are located each side of the travel levers. However, this machine comes with a blade and the control blade is to the right and in front of the control panel. (This blade can be floated to tidy up those little errors we may have inadvertently created.)
All the glass is spotlessly clean and in place, and the fresh smell of Armor All 'whiffs up' the nostrils upon closing the door.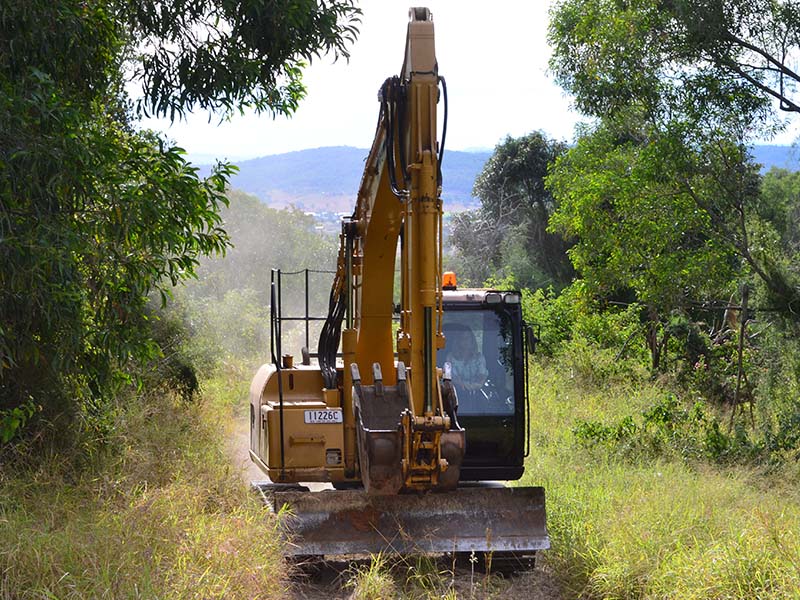 UNDER THE HOOD
Cat is running the turbo-charged 3064T, four-cylinder engine pushing out about 80hp (60kW) and 260ci or 4.3-litre. Entrance to the engine bay is via the top lift engine cover, where you find the access to the engine suitable enough for daily maintenance but can be a bit of a pain if you drop a spanner in the hole. Inverted oil filter, fuel filter, dip stick, belts for tensioning, radiator and engine cover are all easily accessible from the point.
Hydraulics are well positioned at ground level off the side and to the rear, with the hydraulic system relief pressure set at about at 5000psi. The fuel tank limits your day to about 18 hours (in our demonstration). Twin hoist rams, the longer dipper arm and the blade cap off a lovely, well-balanced 12-tonne digger.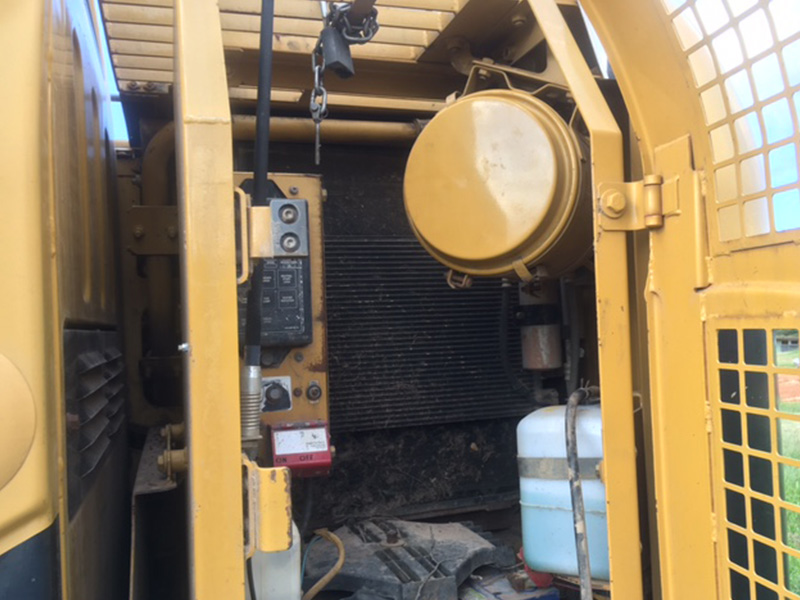 ON THE JOB
This is the part I have been waiting for! The owner had the little Cat heading off to a tree- and vegetation-clearing job in the local area, so when it arrived at our testing grounds it was fitted with a lovely Oz Buckets rock grab fitted to a Jaws quick hitch.
Once on the job it was again back to reality and the hard yakka associated with tree clearing using a relatively small machine (12-tonne). Careful planning on one's approach to dropping trees while getting good production and not damaging the little Cat was always a priority and it's easy to see how a machine of this size can get damaged. Rocks abound in every direction and a systematic plan of attack was required as we set out to fall the thick tree and lantana-lined hillside and separate the thousands of rocks which lay beneath the vegetation.
In this region, the rocks protrude from a metre above to a metre below ground level. Multiple changes from rock grab to bucket to ripper and back again surely make for an interesting day at the office but, once the routine is set, it is really sit back, tune in to your favourite radio station and look forward to the big picture finish at the end.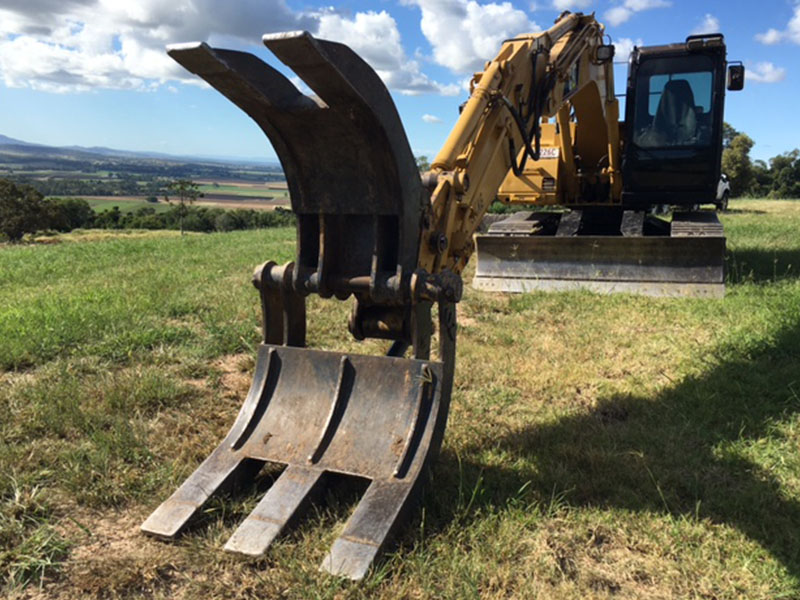 The secret in this type of excavation/vegetation clearing is to keep your job clean. Separation of topsoil, vegetation and rocks is only part – but an integral part – of a successful outcome because you have to create your stockpile areas either for removal, re-use or burn off before you get bogged down. This becomes a challenge in itself as you battle with your own mind to keep the movements of all the excess materials to a minimum yet exact maximum production for the day.
If I have said it once I have said it a hundred times ... the blade on this excavator is about as good as you will get. It's built with very robust H-frame box arms to house the blade and to handle the bloody rough rocky conditions, is designed forward of the track frame for the operator to get great vision to both corner tips, and is strong enough to give you that extra lift height required to place those rocks or logs just that bit higher.
What Cat achieved on this model some 10 years ago, in my opinion, has not been followed through with at least one of its newer and much larger models. Sometimes it gets something wrong but, with this old model – the 311cu excavator – Cat got it right.
I viewed with great interest the new Cat  15-tonne F-Series excavator at Diesel, Dirt and Turf a couple of weeks ago and was very impressed with the new technology adapted into today's machines  and am hoping for an invite to demo one in the near future.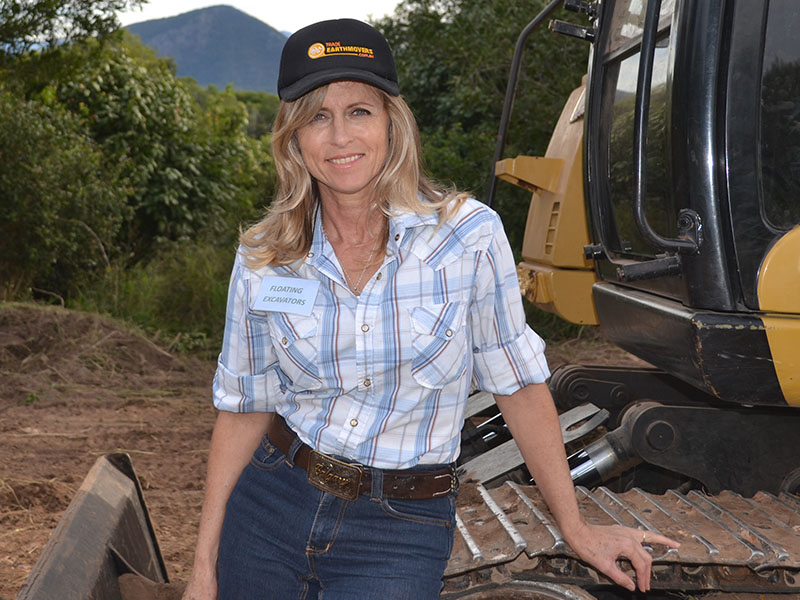 BOTTOM LINE
Having reviewed this machine before and being left suitably impressed, I was more than keen to see how it fared in the tough working environment once a couple of thousand hours had been added to the clock. Speaking to the owner, she said she would be lost without the right-hand local man, Mitch Wagner, who had taken on full servicing and maintenance of the little Cat since we last spoke.
This machine was overall better presented than last time, all hydraulic leaks fixed (including the nasty one up inside the slew motor), bucket pins replaced, and all the gear clearly serviced and maintenance reports completed on everything associated with the machine.
This machine has multiple attachments that comprise hydraulic rock breaker, spreader bar, five buckets including hydraulic tilt, ripper and log grab, which ensures the Cat can take on several types of project and be perfectly suited and purpose-built for the region.
As for the question in the opening paragraph … I've often said that if you can't make money with an excavator you better go back to your office job!  The owner of this little Cat says careful planning, good maintenance programme, skilled operator and choosing your clients well means you will be well on the way to making plenty.
Cat – not only 'built to be rebuilt' but, in this case, building a better future for those involved in the industry.
Recommended
Subscribe to our newsletter
Sign up to receive the Trade Earthmovers e-newsletter, digital magazine and other offers we choose to share with you straight to your inbox
You can also follow our updates by liking us on Facebook. 

Loaders For Hire | Dozers For Hire | Excavators For Hire | Forklifts For Hire | Machinery Attachments For Hire