Review Mecalac 714MW
---
We take a closer look at a second-hand 2007 Mecalac 714MW wheeled excavator
With their multi-jointed arms and tight access capabilities, the French-made Mecalac brand of excavators is something of an unknown Down Under. That was until Christchurch-based hire company owner Stuart McLean made an impulsive decision to purchase a 2007 Mecalac 714MW while on a buying trip overseas recently.
"I was purchasing some machinery for my business and the opportunity came up to also buy the wheeled excavator," Stuart says.
"It was a matter of making a decision rather quickly, but I could immediately see the operator benefits with it."
Those benefits Stuart is talking about are numerous and to be quite frank probably outnumber many of the machines that are currently being used on job sites in our part of the world, specifically on roading work.
Wheeled versatility
Being a wheeled machine gives the 714MW the versatility of driving itself to a job site and doing less damage to asphalt and chip seal surfaces when carrying out roading work. The Mecalac 714MW also comes with four-wheel steering, so crab walking in or out of a position is made easier with this feature.
Multi-jointed arm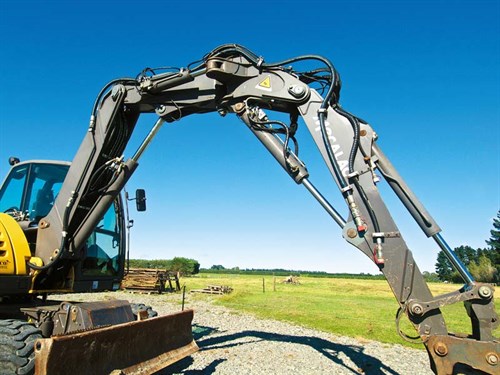 What primarily distinguishes the Mecalac 714MW from its competitors is the four-piece multi-jointed arm mentioned earlier. This is no cute little side-slew with a few degrees of mobility but full-on flexibility that gives the 714MW the ability to not only excavate and load but extend its use across with the help of purpose-made attachments to that of an equipment carrier, pipe layer, wheel loader, crane, and lots more.
A huge benefit for operators who have to constantly be on the lookout when working near live traffic is that most of the machine's excavating capability can be carried out from within one lane, thanks to the digging arm being able to contort right in on itself. Or if I am to be a bit more accurate, the 714MW can bring its bucket within its own radius. It is probably the best I've seen on an excavator yet.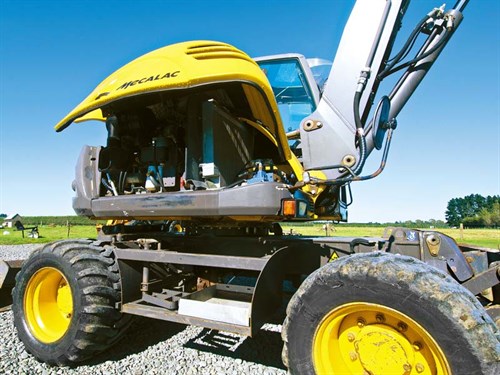 You'd want to be a bit careful when doing this though, as the bucket sits high above the cab, so if anything tumbles out, chances are it could do some damage to the paintwork, so the 714MW would be better protected in the hands of an experienced operator. Fortunately, the operator is kept out of harm's way by a safety guard covering the roof if a spill does occur.
Offset excavating
Thanks to the innovative arm set-up, the machine can excavate in an offset position, and when I say offset, I mean it can cut a parallel trench at what appears to be almost a metre away from the 714MW. This feature would make it near ideal for kerb and channels, trenching, or working in water tables.
Built-in tilt
Another interesting feature is the pivot connection on the dipper arm, which allows the operator to slew the boom and bucket from side to side. Depending on how it is used, the operator can dig around corners or use it as a tilt for the bucket. It adds a completely new profile to the machine's ability to carry out efficient work and doesn't add extra weight to the end of the arm like an after-market tilt-mechanism would.
Other uses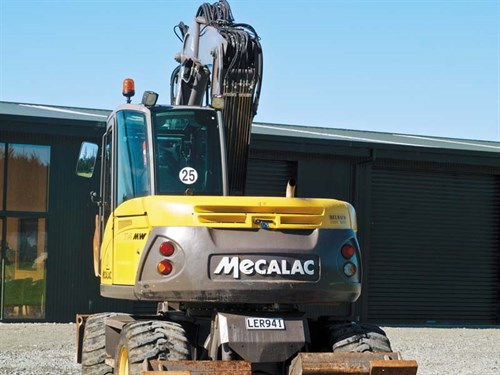 The 714MW can also do things such as backfill trenches, thanks to the dozer blade. Its lifting capability (dependent on weight) can see it place a pallet of goods seven metres high or three metres below the ground level with the help of a set of forks.
Crane work is also possible with the Mecalac 714MW, with its manufacturers saying it can lift 2000kg to a height of three metres with the blade and stabilisers on the ground. Its specs show the 714MW can lift up to 5000kg, however, that would be a lift close alongside the machine and certainly handy for lifting concrete road barriers and the heavier tilted noise-reduction slabs.
Not just a digger
An unusual use for the 714MW is in the form of a wheeled loader and this seems to be a popular use for the machine overseas. This is done by reversing the weed bucket and using it in the forward position. Operators in our part of the world will generally only reverse a bucket as a last resort.
However, the design of the Mecalac bucket is specifically for use as both an excavation and loading tool, having a flat side similar to what you would find on wheel loader buckets. Mecalac says it can reach up to five metres in height during loading and dumping operations, and it doesn't need explaining the extra versatility this feature provides.
Power plant
The 13-tonne Mecalac 714MW is powered by a turbocharged Deutz TCD 3.6L4 engine, outputting 90kW (122hp) @2200rpm. This provides a maximum torque of 480nM@1600rpm.
Verdict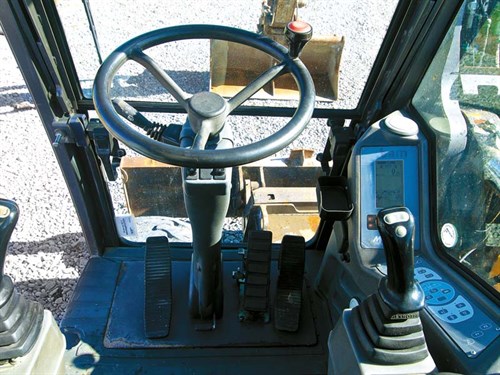 As I see it, probably the biggest drawback of the Mecalac 714MW is that it is something of an orphan in New Zealand. Sourcing parts and finding someone to service the machine could be an issue. However, underneath all the bells and whistles is a variable displacement pump and hydraulics, which most reputable workshops and mechanics understand.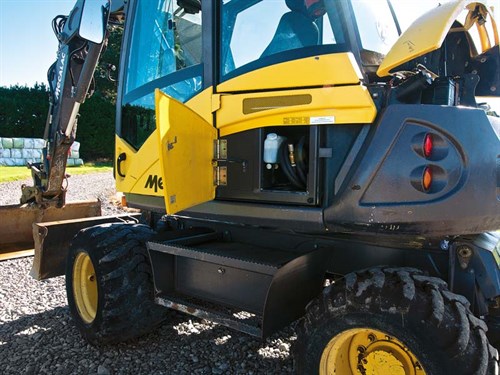 Stuart's machine is for sale at $95,000 plus GST, and with 11,600 hours on the clock, it is in very good condition, both inside and out. It really is a machine that will provide a purchaser with fleet versatility by allowing new operating opportunities.
Mecalac 714MW specifications
| | |
| --- | --- |
| Year | 2007 |
| Weight | 13,300kg |
| Engine | Deutz TCD 3.6L4 |
| Power | 90kW(122hp)@2200rpm |
| Torque | 480Nm@1600rpm |
| Pump | Variable displacement |
| Max flow rate | 270L/min |
| Speed | 0–33kph |
| Max reach | 8300mm |
| Max dig depth | 4550mm |
Subscribe to our newsletter
Sign up to receive the Trade Earthmovers e-newsletter, digital magazine and other offers we choose to share with you straight to your inbox
You can also follow our updates by liking us on Facebook. 

Loaders For Hire | Dozers For Hire | Excavators For Hire | Forklifts For Hire | Machinery Attachments For Hire