REVIEW 1957 Caterpillar D7 dozer
---
Going back in time, a vintage 1957 Caterpillar D7 cable blade dozer captures Ron Horner's attention and affection
Whenever I get the opportunity to pack up the Land Cruiser and head off on another one of Ronnie's Road Trips, it is rarely planned to any degree.
The feeling of meeting people at random, in those random little places and the excitement of 'cold calling' plays a big part in the thrill of the chase when hunting down those fair dinkum blokes that make our passion for the earthmoving or farming industry a reality.
Many of us think that it is the machinery, either new or vintage, is the glue to holding a group of people's interest in our history or direction, but to me it is all about the people who have made our industry so darn interesting and appealing.
I am so thankful for the opportunities to get first-hand knowledge and access to the newest, most modern, technologically advanced equipment and to demonstrate the newest machinery into the country and to get to report my opinion of them to you. However, what really rocks my boat is when I have the chance to meet the pioneers of our farming and earthmoving game. It is a chance for them to take us back to the good old days, when our beloved industry was really a tough gig, and to survive and prosper the men had to be real tough.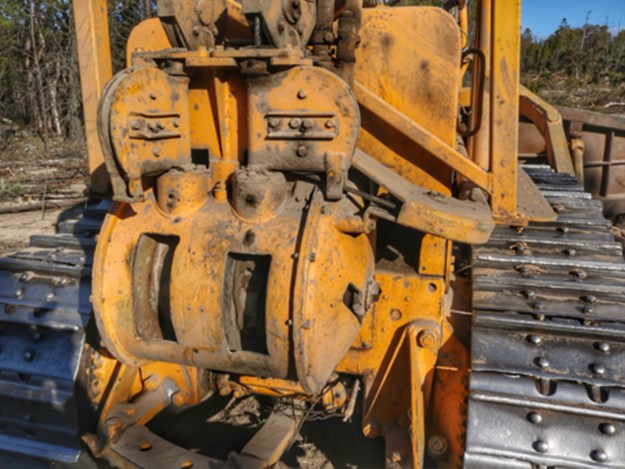 My introduction to a young bloke up on the New South Wales/Queensland border certainly had me hooked from the minute I stepped onto the farm. Phil Sweet, his brothers and his dad Wally run a family farming operation where they grow and distribute one third of Australia's Strawberry Runners and is located just out of Stanthorpe in southern Queensland.
I was welcomed with open arms and, as the stories unfolded, I was invited to get in the old Toyota and have a look at some old working equipment that was to really blow my mind. Tucked away down the bottom paddocks and chugging away without a care in the world was a fully restored 1957 Cat D7 cable blade dozer (convert).
WALKAROUND
Originally a Cat 17A cable-operated winch farm tractor and scoop, it was part of the original pieces of equipment purchased for the farm way back in the 1960s. Wally said that the dozer was so good and reliable – and the parts so readily available – that they decided to keep the old girl, rebuild it as and when required, and have it 'earn its keep' in land-clearing and regrowth management.
Fifty years later and this beautiful Cat has been transformed into a cable blade D7 dozer; a 24-volt start and still pulls the original scoop when required.
I could not believe my eyes … this machine is 'mint': great patina; paint in fantastic condition; rebuilt track plates and grousers; well-greased; new seat; cable in excellent condition and running true; home-made blade complete with inbuilt root rake; and workshop-designed tree pusher with a tree canopy built to suit the conditions. How good could a cold call get?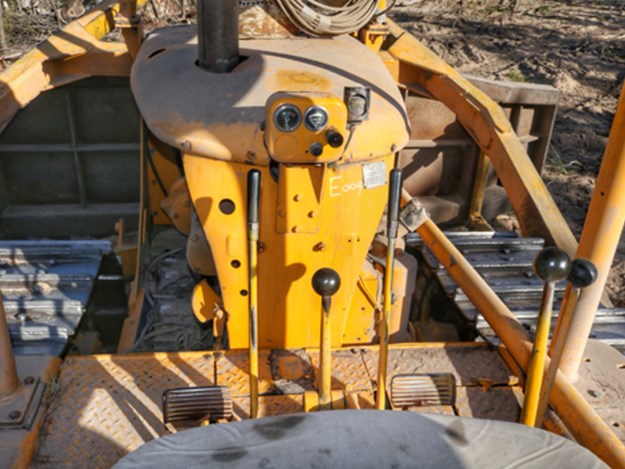 IN THE CAB
If you are an aspiring young dozer operator today, you can thank the pioneers of this era for providing you with the compulsory creature comforts that befit the cabins of our new-generation dozers. All of the health issues suffered by the pioneers, both temporary and ongoing, borne out of long days and weeks of operating those old machines have been identified and mostly removed from today's earthmoving equipment, ensuring you have a safe and comfortable workplace. 
The open cabins of this era were just part and parcel of being an operator. One thing is for sure, you will get severely dusted, so if you have – or intend to have – a breathing-associated illness, this is not the job for you.
Eye protection is advisable but priority is ear plugs and plenty of H2O in your water bag. Believe me, you will need it. There is no problem with vision here; partial blockage through the tree canopy supports but other than that 'it's clear through to Burketown'. The seating, although not original, is much better as it has multiple seating adjustments and comfort than its predecessor.
Out of the aesthetically rounded dashboard are a few gauges, all relevant to the engine; a set of steering clutches protrude from the floor, along with a big clutch lever on the left, two brake pedals (L and R) and a long-stick manual throttle sitting between your well-spread legs.
Over on the right-hand side, at shoulder height, is the cable drum lever, which when engaged activates the cable to pull the blade back up off the deck. Gravity comes in handy when you want to drop the blade because, as you push the lever away, it free-wheels the cable drum allowing the blade to fall to the ground. It does take a bit of getting used to but it's all part of the thrill of going back in time.
To get the old beast moving you would think you were in an old truck as the five-speed  forward and reverse mechanical gearbox took a bit of getting used to, and the big clutch lever got plenty of use (provided you hadn't already pulled your left arm out of its socket in the process).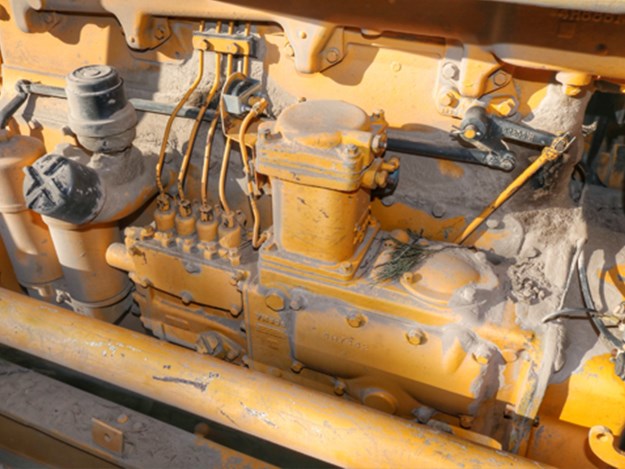 UNDER THE HOOD
You would be more than a bit surprised if I told you this four-cylinder Cat engine runs at 1,200rpm, lugs all day long and has a massive 13-litre capacity. The 'pilot motor' start has long been removed and what a blessing.
When you turned up for work with a big day planned and you couldn't get that darn pilot motor to start, it would do your head in. Frustration with a dicky pilot motor ceased the aspirations of many young dozer operators in the day, but once you got the old girl mobile there was nothing going to stop it.
To start your day, you would have to ensure the petrol pilot motor had its own oil and fuel, charged battery and a good choke (just like a lawn mower). Once this was going, you would engage the clutch from the pilot motor to the engine and it would turn over that big four-cylinder 100hp donk. Oh the relief when you heard that lovely Cat engine turn over.
As time wore on, most owners of such machines, such as the Sweets, removed the pilot motor and converted the dozers to 24-volt start. Having fallen victim to many an old pig-headed and temperamental pilot motor in my time, when I saw it on a pallet in the workshop just before leaving the site my parting comment was "good riddance".
Caterpillar had stiff some competition in those days with Allis-Chalmers and LeTourneau being all leaders of the day. This was a truly innovative period of engineering and design, much of which is still in place today.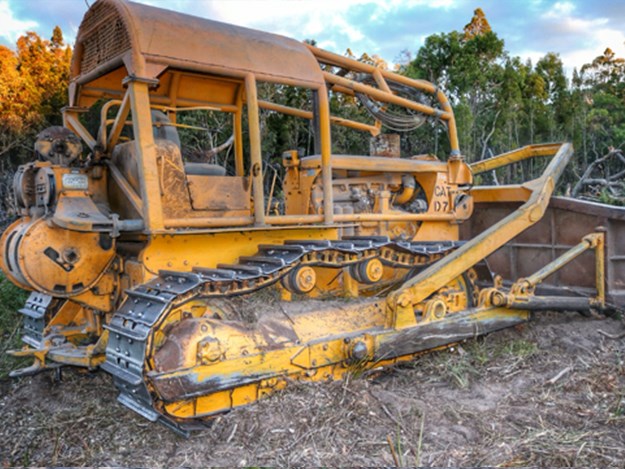 ON THE JOB
It is a darn shame that I have to write all of the other stuff before I get to the best part of my review. This part, especially with this old girl, is what I live for. That old Cat engine just purred along in second gear, scraping up the leftovers from a bit of previous regrowth, pushing and stockpiling with ease – all at 1,200rpm.
Changing gears – forward to reverse, first to third – all with that big clutch, and stopping each time to either disengage or re-engage is certainly a handful and merely confirms my utmost respect for Phil and his understanding and operating skills with the Cat. The workshop-designed and fabricated blade (with root rake inbuilt) and the stick rake all work and look perfect for this application.
Representing an older generation of operators, but with the greatest respect for the new generation of high-tech equipment on the market, I hoped to be the conduit from old gen to new gen so each could be enlightened on how it was then and how it is today. This old girl took me way back to the early 70s when I ran an old cable blade D8 belonging to Sammy, the brother of the then Australian Prime Minister Billy McMahon.
Once in that seat I thought I was 'King' and here, some thousands of kilometres away and nearly 40 years later, nothing has changed. Once I climbed that track frame and put my bum in that seat, placed hands  on those steering clutches, engaged that clutch, pushed up the heap, and when that big sucker fan covered me and filled my mouth full of Queensland dust, I knew I just could not wait to get back into an excavator.
MORE VINTAGE USED EQUIPMENT REVIEWS
Subscribe to our newsletter
Sign up to receive the Trade Earthmovers e-newsletter, digital magazine and other offers we choose to share with you straight to your inbox
You can also follow our updates by liking us on Facebook. 

Loaders For Hire | Dozers For Hire | Excavators For Hire | Forklifts For Hire | Machinery Attachments For Hire