REVIEW Morooka 1500 tipper
---
If you're looking for a 360-degree slewing/tipping, all-terrain, rubber tracked tipper then the Morooka 1500 is well worth a look. Ron Horner gives it a spin





Whilst visiting Penrith's Diesel, Dirt and Turf Expo earlier this year I was fortunate to catch up with a couple of old mates from the '80s.
The "Murph and Sachs" show is all that you could ever wish for when looking forward to purchasing Takeuchi or Morooka equipment out of their Semco Equipment Sales Headquarters in the outer Western Suburbs of Sydney.
Bought into the Sales game back in the '70s and '80s, the boys cut their teeth on CASE Equipment when CASE was a behemoth in the industry. These guys really know their game and have built on  their combined 80 years of earthmoving sales experience and today run an excellent business in importing many earthmoving and related items, namely Takeuchi excavators,  skid steers and hydraulic attachments to suit just about anything and are now the proud distributors for Morooka.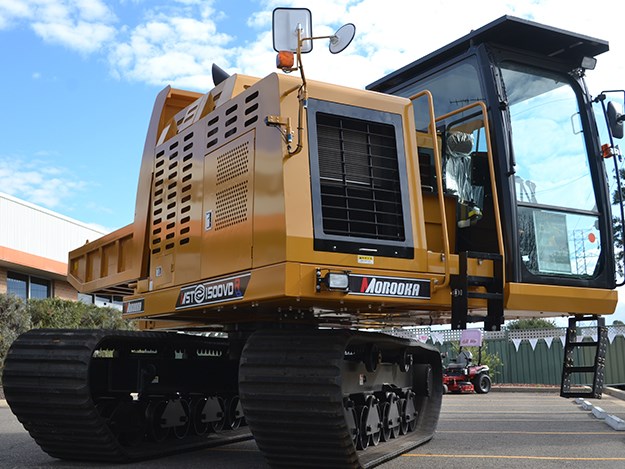 360 DEGREE TIPPING
Impressed…very impressed! Now if you have never seen one of these all terrain, rubber tracked powerhouse dirt and mud movers in operation, take my word for it, you have something to catch up on.
Having personally worked with these units on some of the most trying, difficult and even toxic sites one could imagine it beggars belief that Morooka could bring out something better than when I worked with them, BUT they have.
Morooka have just brought out a 360 degree slewing/tipping, all terrain, rubber tracked vehicle as an addition to the non-slewing version and if I haven't told you already, I am very impressed.
Weighing in at about 10.9 tonnes with a payload of seven tonnes, the ability of this machine to tip at 360 degrees and on the run means there are a myriad of projects that this type of machine is capable of working productively and profitably.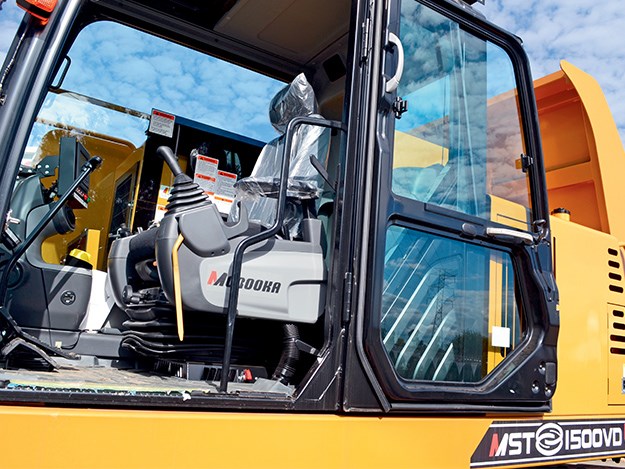 IN THE CAB
The cabin is well and truly up my alley. Based on a Cat excavator the cabin provides an excellent array of simple and easy to read/understand gauges, simple tipping lever, counter rotation hydrostatic drive levers, E stops, air conditioning, big side mirrors, radio, etc. complete a well-designed and operator-friendly office, with great all round vision (for a tipper).
You could well be forgiven if you think you are in the cab of a Cat excavator so similar is the experience. Don't get me wrong, I'm not detracting from the cabin layout – quite the opposite as I think it is a great concept and the operators of these units are really being spoiled.
There is one-handed operation at any time, unless you are counter-rotating your direction of course, and for all of the 'newbies and wannabes' your free right hand can check your Facebook account or post selfies whilst on the go … aaahhh  Morooka, you've thought of everything.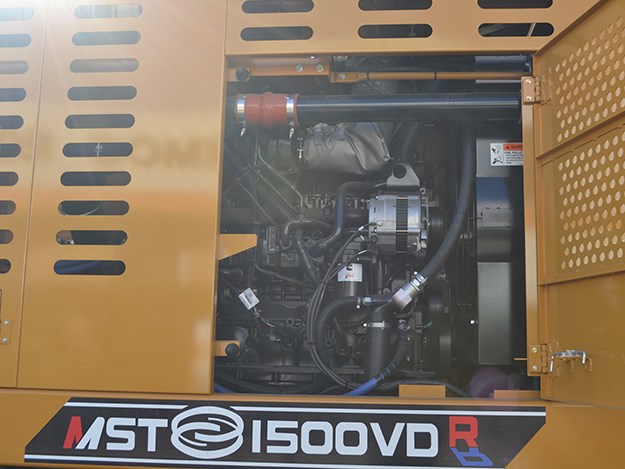 UNDER THE HOOD
The rubber tracks on the Morooka carrier are the result of over 50 years of joint development from Bridgestone and Morooka and combine the characteristics of a tyre-equipped vehicle, creating speed, a smooth ride, low ground pressure, high performance and the excellent traction of a steel tracked vehicle. This, coupled with the unique double rocker bottom track rollers and drive sprocket configuration, proved that these little fellas can go almost anywhere in any conditions.
Morooka make 11 different models, which run an array of engines including Kubota, Mitusbishi and Caterpillar, however on this particular MST1500 VD model it runs a Cummins engine.
To get this on the move is so simple: the hydrostatic transmission allows for economical use of the big Tier 4, 6.9-litre Cummins diesel engine's full power by the engagement of the two-lever forward, reverse and counter rotation hand control levers located centre front of the operator. This system eliminates the need for a clutch and gear controls making the Morooka extremely manoeuvrable.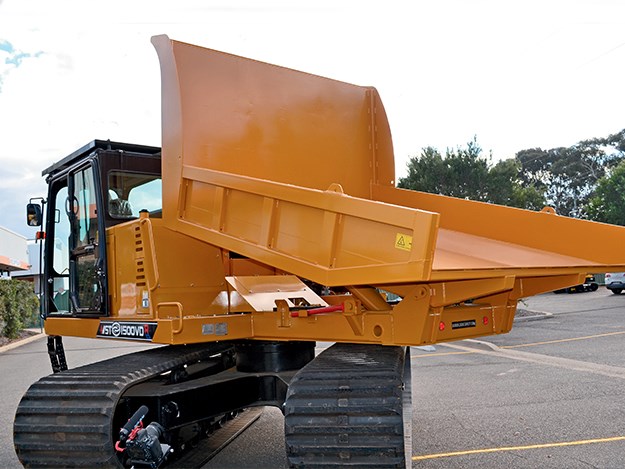 ON THE JOB
The track configuration of the machine is designed to lay the track out in front of the machine and minimise bogging when fully laden as it is driven from the top drive sprocket.
When this is designed into the elliptical track design this machine can climb over the swampy, boggy materials and not drive itself into the ground and become another buried statistic.
The Morooka MST 1500 VD comes in at about 17 tonnes and is able to carry an extraordinary 15 tonnes in weight, but what is more extraordinary is the low ground pressure exerted. When empty, the Morooka MST 1500 VD exerts a mere 2.6 psi (18 kPa) and, when fully laden, an incredibly low 4.8 psi (33 kPa).
This is partly due to the design of the 900mm-wide rubber track shoes sitting on the 5m x 2.5m-long frame and well balanced design to carry this weight.
WARNING: Don't attempt to reverse up over excessively steep inclines in soft materials as you will find your nose touching the windscreen as the front will belly out big time when the weight is transferred from rear to front.
Speed across the ground is an impressive 11 km/h, 450mm ground clearance and for tipping, Morooka have engineered a twin hydraulic ram to dispose of that mud with ease. The square-ish shape and close to ground design of the Morooka guarantees safe tipping angles can be achieved in most cases.
This demonstration unit we chose was not a 360 degree slewing model Morooka, but the standard version really proved unstoppable on the day of use; hauling toxic mud from the tailings area of the abandoned tailings site into a sealed Mono-Cell purposely built to house the 30,000 tonnes of excavated material being dredged/dug and sucked out of the contaminated area.
Access to the load out area changed accordingly as the project moved forward, as on some days you were on solid terra-firma and the next utilising purpose built log mats to gain access to those definitely 'white knuckle' spots where you knew that if you were not square and central to the mats and the excavator operator just happened to load you off centre — well you just know the next step is OMG!
Interestingly enough the Morooka had many different machines to load you up during the differing phases of the remediation. Front end loaders were in use in the first instance when the material was close to the bank of the tailings dam, conventional excavators then came into play when things became a touch more difficult to access, and then a 40 tonne floating excavator to load out when things became extremely hairy towards the centre of the wet tailings and timber mats were the only access. Not a spot for the faint hearted.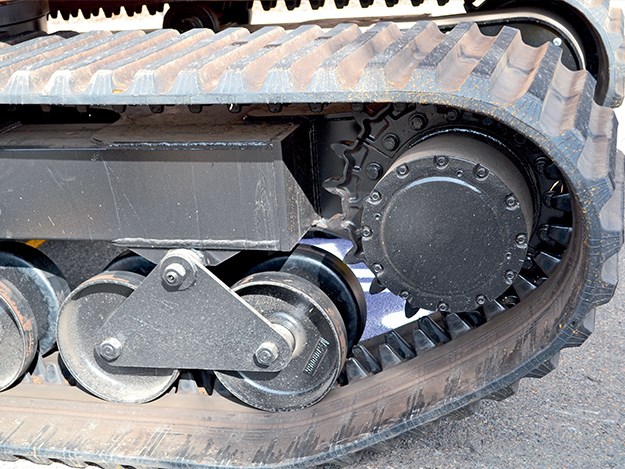 BOTTOM LINE
After inspecting the Morooka rubber tracked all-terrain carriers I have come to the conclusion that they are an invaluable vehicle capable of accessing not only muddy and boggy areas, but also suited to sandy and desert areas that require specially designed vehicles such as this.
I've worked with the Komatsu branded 'slewing' version of the all-terrain crawler carrier, which was part of the fleet at the toxic mine site on which I was working, and this 360 slewing carrier held particular appeal for me.
Useful for where the dump points are so bad that turning or reversing becomes a major drama, this Morooka machine can drive directly to your dump point, slew just as you would with an excavator, and dump your load. Komatsu were not the first to do this, but this Morooka is definitely better than anything I have operated before.
These machines are perfectly suited for use in a wide range of applications and are particularly suited to environmentally sensitive areas. They will accommodate a variety of attachments such as water tanks, digger derricks, drill rigs, cement mixers, welders, lubrication rigs, fire-fighting equipment, specialty dump bodies, scissor lifts, seismic testing equipment, exploration tools, air compressors and personnel carriers.
If you are a lateral thinker and look outside the square, just finding the right machine for your application is one hell of a task these days. Once you do find THAT machine it is quite often that there is no distributor in Australia and the pressure mounts on what direction you should take.
These Morookas are different, but you can take my word for it, they are an excellent machine capable of working in any conditions. Combine this with a couple of long serving industry professional sales personnel like Murph and Sachs from SEMCO Equipment Sales in Sydney and you can guarantee that you won't find better in this country.
With all this under their belt why wouldn't I give it a double thumbs-up? Morooka, you done good!
KEEP READING 
Subscribe to our newsletter
Sign up to receive the Trade Earthmovers e-newsletter, digital magazine and other offers we choose to share with you straight to your inbox
You can also follow our updates by liking us on Facebook. 

Loaders For Hire | Dozers For Hire | Excavators For Hire | Forklifts For Hire | Machinery Attachments For Hire