Mustang 2054 loader review
---
Ron Horner has never liked skid steers – it's an old man thing he reckons, but the old dog has come away impressed after a stint in a Mustang 2054 on a difficult job site west of Brisbane.
I was involved with a major commercial landscaping project on a rural property in south-east Queensland when I came in contact with another Mustang skid-steer loader. This time it was the 2054 model and, although I hate to admit it, I liked what I saw and couldn't help myself in getting back into my favourite skid steer.
HISTORY LESSON
Once I began to research this little loader I was totally surprised by what came up. Apparently, Mustang is one of the oldest skid-steer manufacturers in the world, with the company starting way back in the 19th century producing agricultural implements before morphing into a compact equipment powerhouse trading as Mustang Compact Equipment.
Originally known as Owatonnna Manufacturing Company, Mustang became the first to make what is known today as the skid-steer loader.
Since that time, it has combined old-school experience with innovative processes to offer one of the broadest lines of compact equipment available today.
Mustang is the second-oldest skid-steer manufacturer in the world, building its first
loader in 1965 – the Mustang Series 1000; and has pushed the boundaries and limits of product innovation and set performance standards throughout the industry. Its manufacturing facility located in Madison, South Dakota, is a long way from where Calamity Jane fought off the Indians from the back of a stagecoach in the 'Black Hills of Dakota' in the 1800s, but nevertheless, Mustang has left
an indelible mark on the compact equipment industry equal to Doris Day's charms.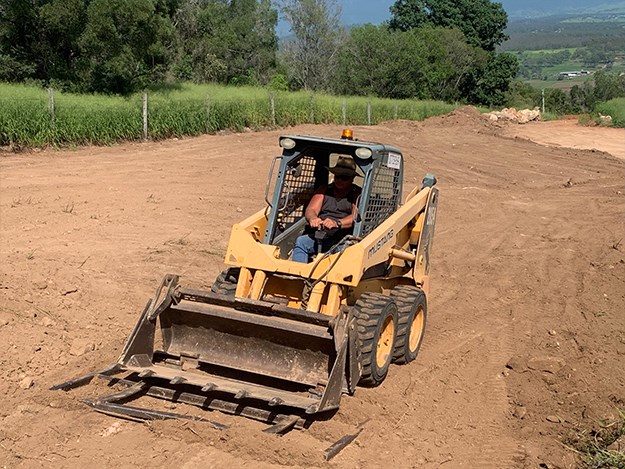 WALKAROUND
Not being in love with skid steers, a quick walk-around suggests it is just another skid steer to me until you realise that this model has one single floor-mounted lever which is used for operating forward, reverse and counterrotational
directions. A four-in-one bucket and a spreader bar was all that came with the Mustang on to the job site but that was enough for it to impress me and get my
bum in the seat and give it a go.
IN THE CABIN
Surprisingly, gaining access to the cabin was not as tight as I first imagined it would be. Only one vertical lever impeded my slightly oversized bum
and body from gaining access to the comfortable seating arrangement. And once seated I felt totally at ease.
The open-fronted and slotted-mesh side cabin gives the operator a clear visual experience and I found it more accessible than most skid steers
and as comfortable as an old boot once seated.
The top-mounted dash board sits above and in front of the operator with all the necessary and relevant gauges poking the operator right in the eye. The bucket pin release lever is up and out of the way in the same area along with the ignition;
and the mirror is well positioned to check on those pesky labourers floating around the back.
The floor-mounted bucket controls are perfect for me and took all of about 30 seconds to get used to and to become reasonably competent operating. Left foot operates a foot lever in a forward and reverse motion for bucket load and dump; and the right foot operates the control for lift and lower in a forward or reverse motion as well. Perfect!
It is rumoured you can choose from three different control options: dual lever with
foot co trols; dual lever with hand controls; and the T-Bar with two foot controls.
I'm glad this one had the T-Bar controls as this was just so easy to get used to and seemed so natural. I wish all skid steers had it!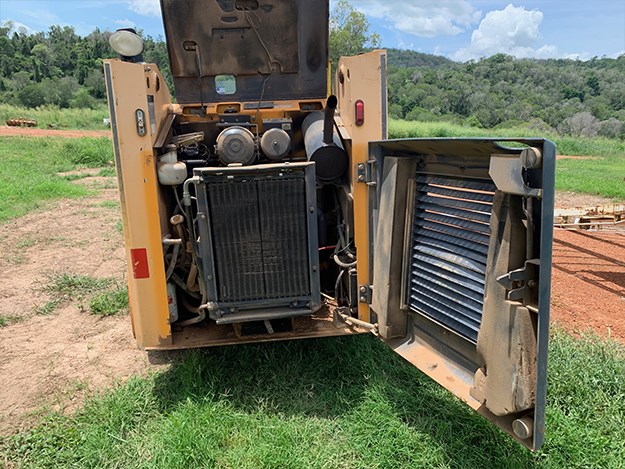 ON THE JOB
Terry Lotz runs his family business in the Scenic Rim region of south-east Queensland, specialising in house pads and driveways. With his expertise and skill he was brought in by a very fussy client on a major landscaping project
well and truly under way.
The little Mustang skid-steer was under my watchful eye since it came on to the site, from the unloading off the tag-along, to moving scattered items all over the site, rocks, topsoil, overgrown grass and weeds; and the use of the
spreader bar to tidy up the site once the bulk moving was in hand.
The lifting capacity of the 2054 is claimed to be 748kg, but this little fella ran a standard counterweight and although never really tested to its fullest capacity, it worked very efficiently for its purpose on the day.
The region is renowned for the boulder rock which is prevalent in those steep, mountainous sites, and with topsoil being scarcer than a box of toilet rolls in the supermarket during the Coronavirus pandemic, the precious black stuff
could not be wasted or discarded.
If you combined the negligible amount of topsoil available and the large ratio of small rocks (which were impossible to separate) it meant those small rocks had to be compacted into the topsoil after levelling to provide a suitable mowing strip once the "couch" had taken hold.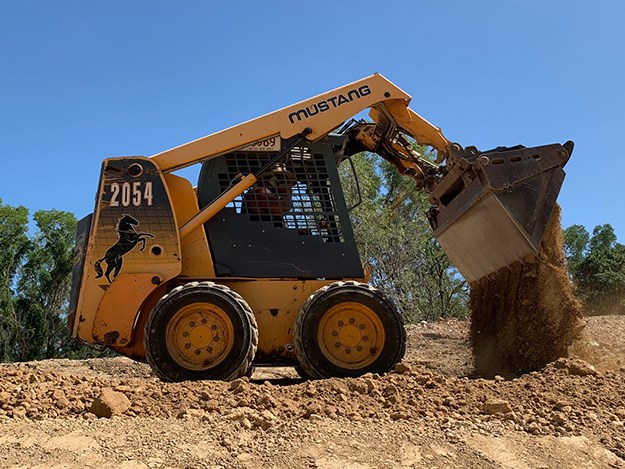 The true four-cylinder, direct injected Yanmar diesel engine (4TNV88 133.6 cubic inches or 2.19 litre) pushes out 34.2kW. It is more than sufficient to run the hydrostatic drive motors which push it along at over 11km/h.
The fuel tank is an above-standard 54-litre which will keep you in the seat for longer than one would wish. All the servicing can be achieved safely from on ground and when the rear engine bay door is swung away you can access the filters, air cleaner and engine bay quite easily by swinging the radiator out and to the left.
This gives you basically unimpeded access to the engine bay and creates an easy avenue to complete any necessary engine bay works.

THE BOTTOM LINE
I always find it difficult to cast praise on any skidsteer loader, it's just an issue I have had for many years, but the older I get the less critical and
confronting I am becoming.
To tell you the truth I have found a couple of skid steers that have impressed me both for work capability and operator comfort and this little Mustang surprised me.
I watch in awe of extremely competent skidsteer operators and know that I will never gain those levels of competency in this life. Over the 45 years of involvement in the industry there have been the most challenging and technical changes in the design of all types of both light and heavy equipment making them so comfortable and efficient that it beggars belief.
However, I love history and I take my hat off to the blokes that 50 or 60 years ago sat down and visualised an opening for a new type of, or severe modification of, an agricultural machine that over the years have been converted into these modern, highly-technical and ever-soefficient dirt movers we have at our disposal these days.
Our industry is not only moving with the times but in fact leading from the front with great design engineers and quality manufacturing plants building our 'boys toys'. In a world where we see major takeovers, great companies bought and sold like cattle at market, it is great to see that the Mustang brand is still going strong after all these years and keeping true to its loyal customers with a great product and great product support from its Australian distributor, Tutt Bryant.
Subscribe to our newsletter
Sign up to receive the Trade Earthmovers e-newsletter, digital magazine and other offers we choose to share with you straight to your inbox
You can also follow our updates by liking us on Facebook. 

Loaders For Hire | Dozers For Hire | Excavators For Hire | Forklifts For Hire | Machinery Attachments For Hire