First Australian Drive: Mack on the move with Anthem
---
The covers are finally off Mack's new Anthem and right now various versions are headlining a national 'Evolution Tour' alongside significantly upgraded Super-Liner and Trident models.
Not so long ago, three Anthems, a Super-Liner and a Trident left Brisbane early one morning, heading south on the first leg of what Mack is promoting as a national 'Evolution Tour'.
Over several months the trucks will travel many of the country's major routes from east to west and back again, stopping to showcase not just Anthem but also the significant safety and cab developments on Super-Liner and Trident which altogether make these Macks something special.
Even so, as the five trucks punched down the Pacific Highway towards Sydney, the Super-Liner and Trident at first glance appeared little different to the current crop. From any angle though, Anthem is definitely a breed apart.
Visually, there's never been anything like Anthem and typically perhaps, early reports and various photos from the US, and more recently Australia, have delivered vastly mixed opinions of the truck's idiosyncratic hood design. Quite simply, some like the look of it, some don't. Again, it's just typical of a trucking population with as many opinions as pub politics.    
Not so typical though, and certainly surprising, was the lack of comment over the UHF radio during a short 200km stint behind the wheel. There was plenty of truck traffic heading the other way and given the model's unique looks and 'Mack' emblazoned trailer, it was reasonable to expect a fair amount of feedback one way or the other. Sure, it was easy to spot northbound drivers having a quizzical look at the boldly styled truck but you could also count on one hand the number of times the radio crackled with comment about this new breed of bulldog.  
Maybe it was because there has already been so much publicity about Anthem that radio chatter was so subdued. After all, the truck first hit the headlines in the USA back in September 2017 and we've been reporting the model's 'upcoming' Australian launch ever since, most notably after a visit to the big kennel in Pennsylvania in early 2018.
It has been a long wait but by the end of 2020 speculation was mounting that Anthem was on the brink of calling Australia 'home'. As we reported in our final issue of the year, '… if the whispers are correct and Mack's new Anthem does actually debut on the Australian market in early 2021, it will be an incredibly momentous occasion for the bulldog breed in this country. A milestone for true celebration.'
But other than its distinctive snout, what makes Anthem such a milestone model?
Well, three things: One, Anthem utilises what Mack insiders call a 'bridged' version of Volvo's Tier II electrical architecture, meaning the operational systems and features which define the extent and finesse of Volvo performance and efficiency now become largely inherent in Mack. In short, the all-important electronic control unit (ECU) is equipped with the 'smarts' to not only provide a higher level of compatibility and smoothness in integrated powertrain (engine and transmission) performance, but also more precisely integrate the standard Bendix Wingman Fusion safety package.
Two, while Anthem is largely based on the same cab shell as Trident, Super-Liner and the superseded Granite, it delivers Mack's first stand-up sleeper cab. In this first phase, the stand-up cab only comes with a 36 inch bunk but it won't surprise if somewhere in Mack's near future a 50 inch sleeper is added to the armoury.
Three, and most critical of all, the updated electrical system, the standard safety package and the stand-up cab are also now part of Trident and Super-Liner inventory. A long time coming perhaps, but definitely a big step forward. 
So all up, Anthem is much more than simply a replacement model for the utilitarian and somewhat underwhelming Granite. In fact, from the moment you step up into the cab, you know this is a Mack with a difference that goes well beyond the quirky snout.
Inside and Out
It was late afternoon by the time the five Macks rolled into the Caltex roadhouse at Coolongolook on the NSW mid-north coast and it was immediately apparent that Mack's intention was to cover as many operational bases as possible on its Evolution Tour.
The Anthems, for instance, were configured as an eight-wheeler rigid tipper, a day cab prime mover towing a 40 foot container on a skel trailer, and a premium stand-up sleeper model hooked to a curtain-sided trailer.
Meantime, and typifying much of its usual workload, the day cab Trident hauled a tipper body and four-axle dog trailer while the big boy of the bunch was the 685hp Super-Liner also fitted with the 36 inch high-rise sleeper cab, towing a B-double set. All five trucks were loaded to some extent.
In due course we're hoping for a sleep-over in the high-rise Super-Liner but on this occasion the model with the most appeal for a relatively short 200km run down the Pacific Highway was the premium Anthem with the stand-up cab.
The official designation for this particular model is 'Anthem 64T 13L Air' which translates to a 6x4 truck for trailer work, powered by the 13 litre MP8 engine and riding on Mack's Air-Ride rear suspension.
Like Trident, all Anthems are powered by the Euro 5 MP8 engine and behind the 535hp rating in the demo unit was Mack's mDrive automated transmission. However, rather than the standard 12-speed version, this unit was fitted with what's known as the mDrive HD 13-speed shifter.
As mentioned in our special report on Anthem late last year, the optional 13-speeder provides an additional and some might say long overdue, crawler ratio of 17:1. There's also a 14-speed XHD version available with 'bog cog' ratios of 19:1 and a tree-climbing 32:1, but there's no question the 13-speeder's 17:1 crawler cog which also delivers the benefit of two reverse ratios, is unquestionably a welcome addition to the Mack drivetrain.
Vitally, the crawler boxes are also optionally available in Trident and Super-Liner.
Mack's integrated drivetrain sees the direct-drive transmission feeding into single-reduction rear axles running a tall 3.09:1 diff ratio and as would soon be revealed on the run south, notching 100km/h at a touch over 1400rpm.
With the demo truck built on a 4485mm wheelbase and obviously configured for highway work, the test unit carried fuel capacity of 1460 litres in two D-shaped aluminium tanks – 960 litres driver's side and 500 litres passenger side, alongside a 150 litre stainless steel AdBlue tank.
Still on the outside, a short stroll around the truck reveals LED headlights, fog, marker and tail lights, a two-piece windshield, and attached to the step atop the passenger side fuel tank, the Bendix Blindspotter scanner for signalling the presence of objects alongside the truck. Blindspotter is, of course, part of the Bendix Wingman Fusion safety package along with functions such as an exceptionally perceptive adaptive cruise control.
With deep steps recessed into the fuel tanks, it's an easy climb into the cab and typically, the Isri seat and a steering wheel easily adjusted by a foot-operated lever make it easy to find a comfortable position for a multitude of shapes and sizes.
The first thing to grab your eye though, is the steering wheel. Rather than fully round, it has a straight lower edge which, according to Mack's US designers in 2018, provides more girth room for those drivers with big spreads. Fair enough too, because while modern Australia has its fair share of dumpling drivers, the gargantuan guts of some American steerers has to be seen to be believed. Eat your heart out, literally!
Meantime, the gauge and switchgear layout has been substantially revised with the centre of the dash occupied by a bigger version of Mack's Co-Pilot digital information display. On each side are the rev counter (left) and speedo, and underneath are needle gauges for fuel, oil pressure, engine temperature, air pressure and the like.
Further left on an angled fascia is another row of gauges for oil, gearbox and exhaust temperatures, and turbo boost pressure, all sited above a panel of switches for functions such as hill-hold, lane departure warning, rear axle air suspension height, traction control, power divider and diff lock.
The master switches for transmission engagement are placed similar to current models on the left dash fascia and while in relatively easy reach, it's not as convenient as some competitor designs which nowadays tend to have all transmission controls on a dedicated wand on the steering column. Still, newly designed wands on each side of the steering column are at least within fingertip reach for control of turn indicators, wipers, engine brake and quick driver-selected gearshifts.  
Back on the steering wheel, buttons for cruise control, phone, radio volume and various Co-Pilot functions are ideally placed.
But the most appealing driver feature of all, of course, is the stand-up cab where a full 1.8 metres of standing room is available. What's more, a quick stretch-out on the bunk suggests there's ample convenience and comfort for an overnight stay, including a generous and sturdy array of internal lockers for storing all the usual odds and sods. 
Finally, Mack has a modern long-haul cab.
So now for the road run and as already conceded, 200km down an easy stretch of the Pacific Highway is way short of an expansive evaluation. Still, the opportunity to be the first truck writer to sample Anthem on Australian roads wasn't about to be ignored. Nor was the temptation to at least sample the dog's crawler cog as the truck idled super-slow out of the parking area.
Anyway, into the real world at a gross weight said to be around 41 tonnes, it was almost immediately apparent that the upgraded electronic platform has produced decidedly improved performance and response in the mDrive transmission. Shifts are unquestionably smoother and faster than the occasionally lethargic and lumpy swaps that have long separated Mack's shifting performance from its Volvo counterpart, even though mDrive and Volvo's I-shift are based on the same hardware.
To put it plainly, Volvo's I-shift has long been deservedly considered one of the best automated transmissions in the business but only now, thanks to the adaptation of the Swedish brand's electrical platform, can Mack's mDrive claim similar levels of operational finesse and response.
---
VIDEO: Steve Brooks test drove the Anthem in the US back in 2018
---
Yet as quickly apparent as the improved transmission performance was, it was similarly apparent that Anthem's steering quality is less than ideal, particularly for highway work. In short, steering is too light and too reactive. Twitchy, best describes it. Sure, it makes for easy wheel work at low speeds when idling in and out of tight spots and after an hour so behind the wheel, even becomes measurably more manageable at highway speeds. Nonetheless, there's no doubt in this mind that Mack needs to have a look at stiffening Anthem's steering a tweak or two.
It's also worth pointing out that the Anthem demo trucks were pre-production units and therefore, not entirely representative of the standards to be expected of trucks coming off the end of the Wacol (Qld) production line. Consequently, it's reasonable to suggest the minor squeaks that occasionally surfaced, particularly on the M1 Motorway's crappy concrete surface, would be far less likely under the more stringent standards of full production.
A later look at the truck also indicated that the single latch under the grille,  attached to cables which release locking clamps at the back corners of the hood, needs to be in proper adjustment to ensure both clamps open fully when it's time to lift the lid.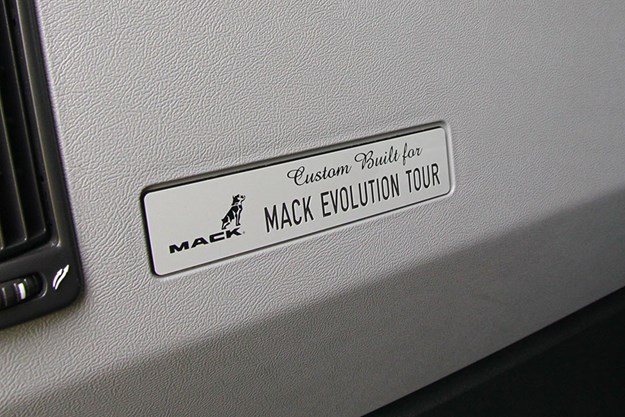 Meantime, the 200km from Coolongolook to the refuelling stop at the southbound Caltex at Wyong passed all too quick.
Still, it was long enough to confirm at least some of Anthem's abilities, not least a high level of forward vision over the drooping snout, excellent ride quality, the predictably willing performance of an MP8 engine with 535hp and 1920ft-lb of torque, and critically, the quick familiarity and easy logic of the new truck's advanced systems such as adaptive cruise control.
Indeed, given the easy run south, adaptive cruise was engaged for at least 80 percent of the trip and despite just 3500km on the clock, the fuel return of 2.8km/litre (7.9mpg) was extraordinarily impressive.
All up, Anthem promises much for Mack and a national tour will certainly be an effective shake-down for identifying areas where fine-tuning will further enhance the model's considerable prospects.
Time and toil will determine the rest.
Subscribe to our newsletter
Sign up to receive the Trade Earthmovers e-newsletter, digital magazine and other offers we choose to share with you straight to your inbox
You can also follow our updates by liking us on Facebook. 

Loaders For Hire | Dozers For Hire | Excavators For Hire | Forklifts For Hire | Machinery Attachments For Hire